While toilets vary from model to model and brand to brand, many of the measurements have been standardized across the industry in order to make construction and replacement easier. Whether you need to install a toilet, are shopping for a new toilet, or are designing your new bathroom, these standard toilet dimensions will help you make the right choices.
What is the Standard Toilet Seat Height
The most common standard seat height is 15". This is often referred to as "standard height" in product labeling. Another frequent seat height is 17", which is often referred to as "chair height" or "comfort height".
These chair height toilets have a specified height range of 17" – 19", though 17" is more common.
Taller toilets may be easier or more comfortable for taller people, disabled people, and seniors. The right choice will depend on who is using the toilet.
What is ADA Compliant Toilet Seat Height?
Section 604.4 of the Americans with Disabilities Act requires that the toilet seat height is a minimum of 17" and a maximum of 19". This height is measured from the floor to the top of the toilet seat.
Additionally, the ADA specifies that toilet seats may not automatically return to a lifted position.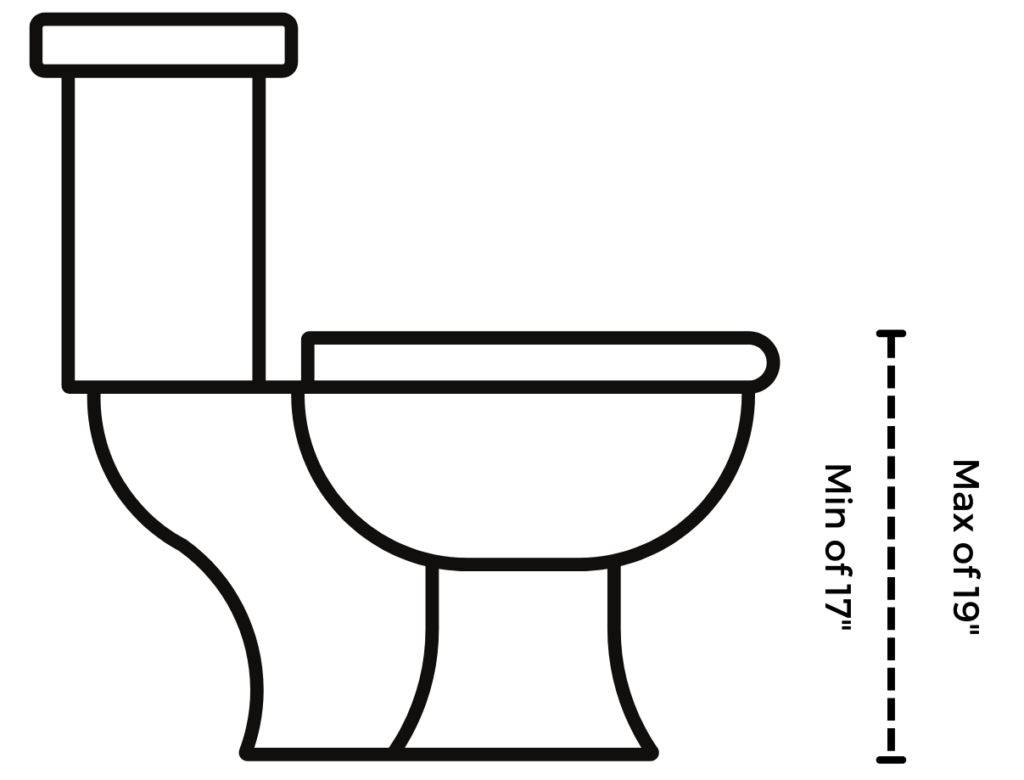 What are Standard Toilet Dimensions
The standard toilet dimensions are:
Standard toilet height: 27" – 32"
Standard toilet width (base): 12"
Standard toilet width (tank): 20"
Standard toilet length: 27" – 30"
Seat height of 15" or 17" to 19"
How Wide are Toilets: Standard Toilet Width
Toilets are typically about 20" wide – as measured at the tank – and about 12" wide at the rough in / bottom of the toilet. Rember, for rough in dimensions, you need a total of 15" of clearance from the center of the flange to any wall or obstruction to the left or right of the toilet. So even though toilets are generally only 20" wide, you should have 30" of space.

How Long Are Toilets: Standard Toilet Length
Toilets are typically 27" to 30" inches in depth – Elongated toilets will be closer to 30" in length while round toilets will be closer to 27" in length.

How Tall are Toilets: Standard Toilet Height
Toilets are typically 27" tall to 32" tall. Heights vary within this range by manufacturer and model. While most toilets fall within this range, you can find ones outside of this standard range.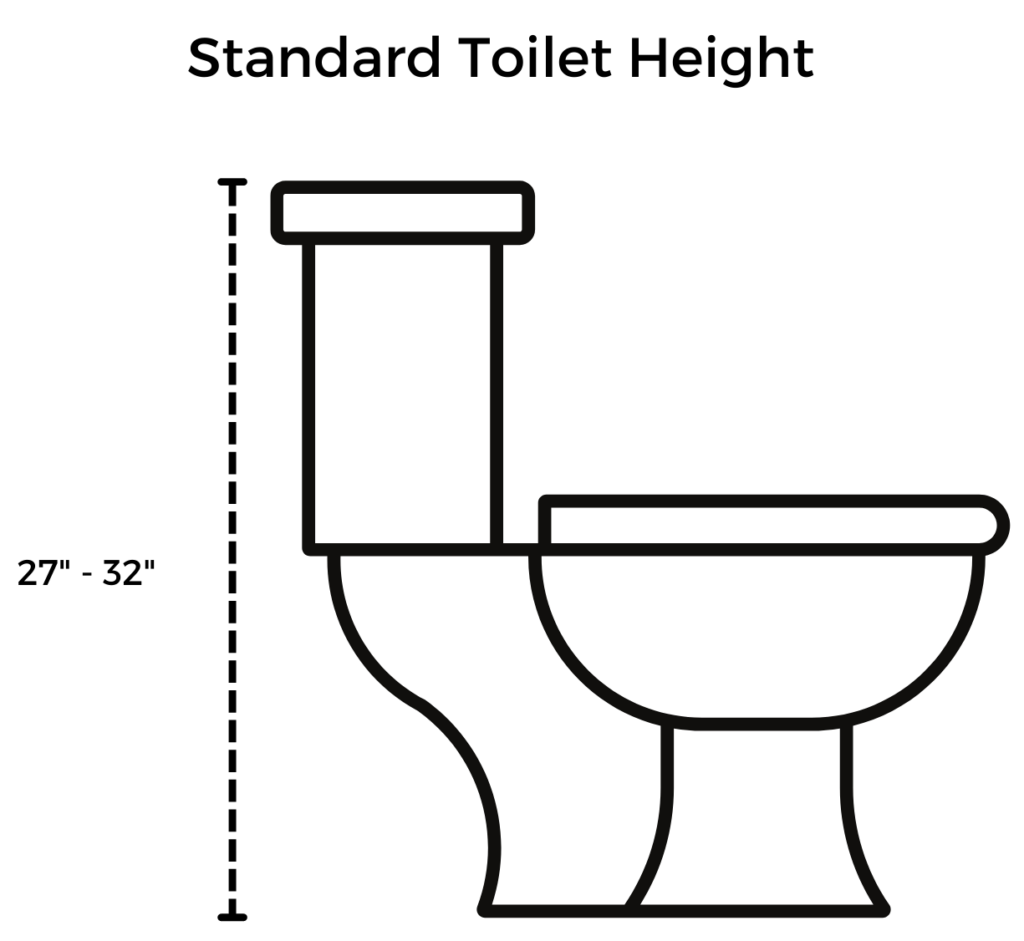 Toilet Shapes: Round Toilets vs Elongated Toilets
There are two primary shapes of toilets – round toilets and elongated toilets. If you are putting a toilet in a small bathroom, typically round toilets are a better choice as they are about 2" shorter than elongated toilet seats. Outside of that, the difference is primarily preference of appearance.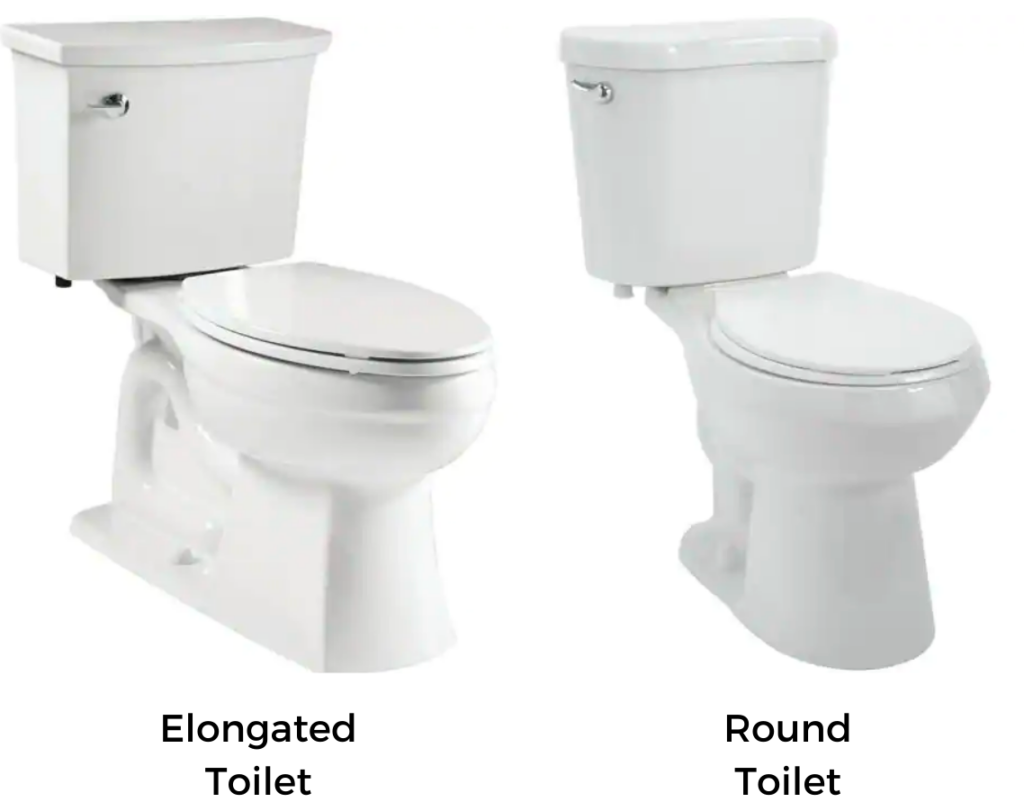 How Long are Round Toilet Seats
Round toilet seats are typically 16.5" from the mounting hardware to the from of the seat – this can vary by about ½ inch giving round toilet seats an average length of 16" – 17"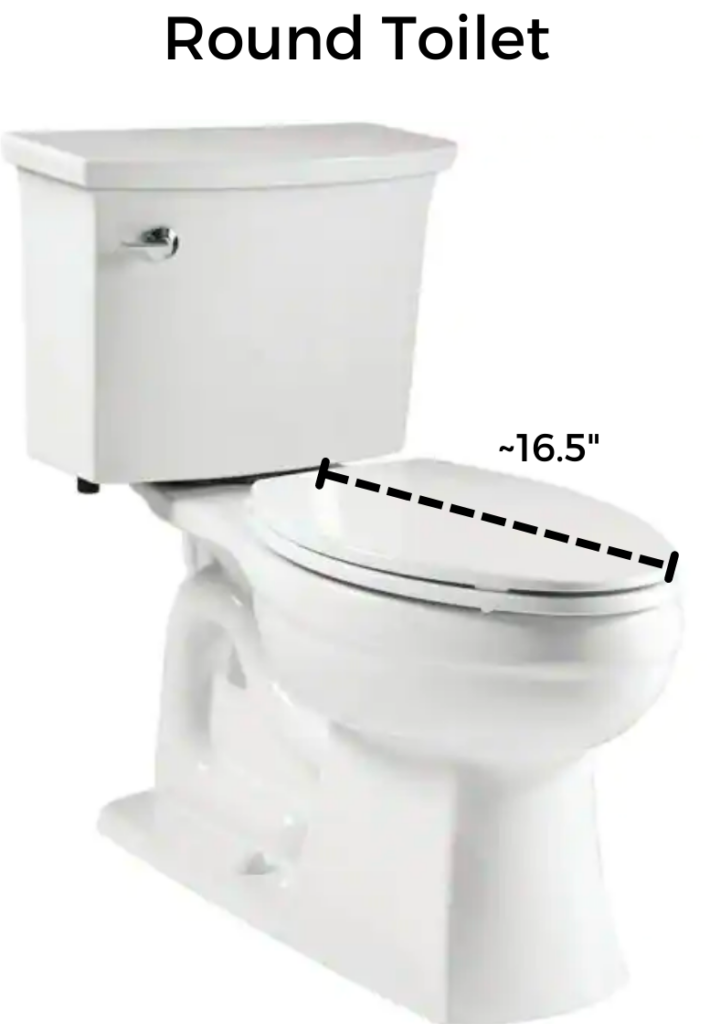 How Long are Elongated Toilets
Elongated toilet seats generally measure 18.5" from the front of the toilet seat to the mounting hardware. The length can vary about half an inch giving elongated toilet seats a typical length of 18" – 19".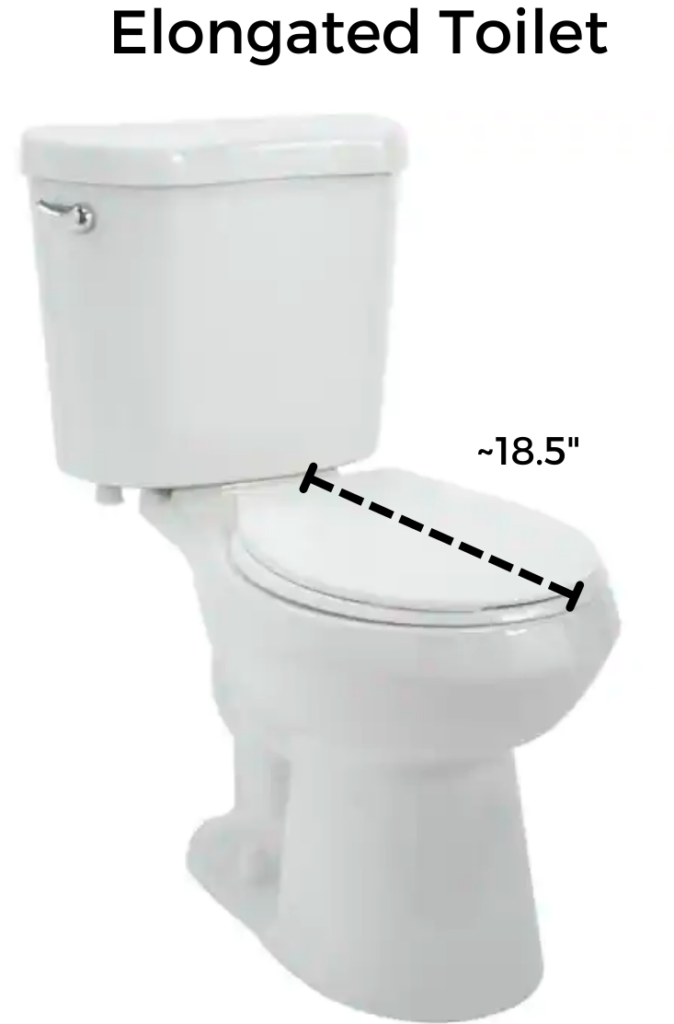 Standard Toilet Rough in Dimensions
The standard rough in dimensions for a toilet are:
12" or 10" from the back of the wall to the center of the flange
15" to the left and right from the center of the flange to the nearest wall or fixture
21" or 24" from the front of the toilet to the closest wall or obstruction
The water supply line should be 6" left from the center of the flange and 7" up from the floor
Learn the ins and outs of toilet rough in dimensions here