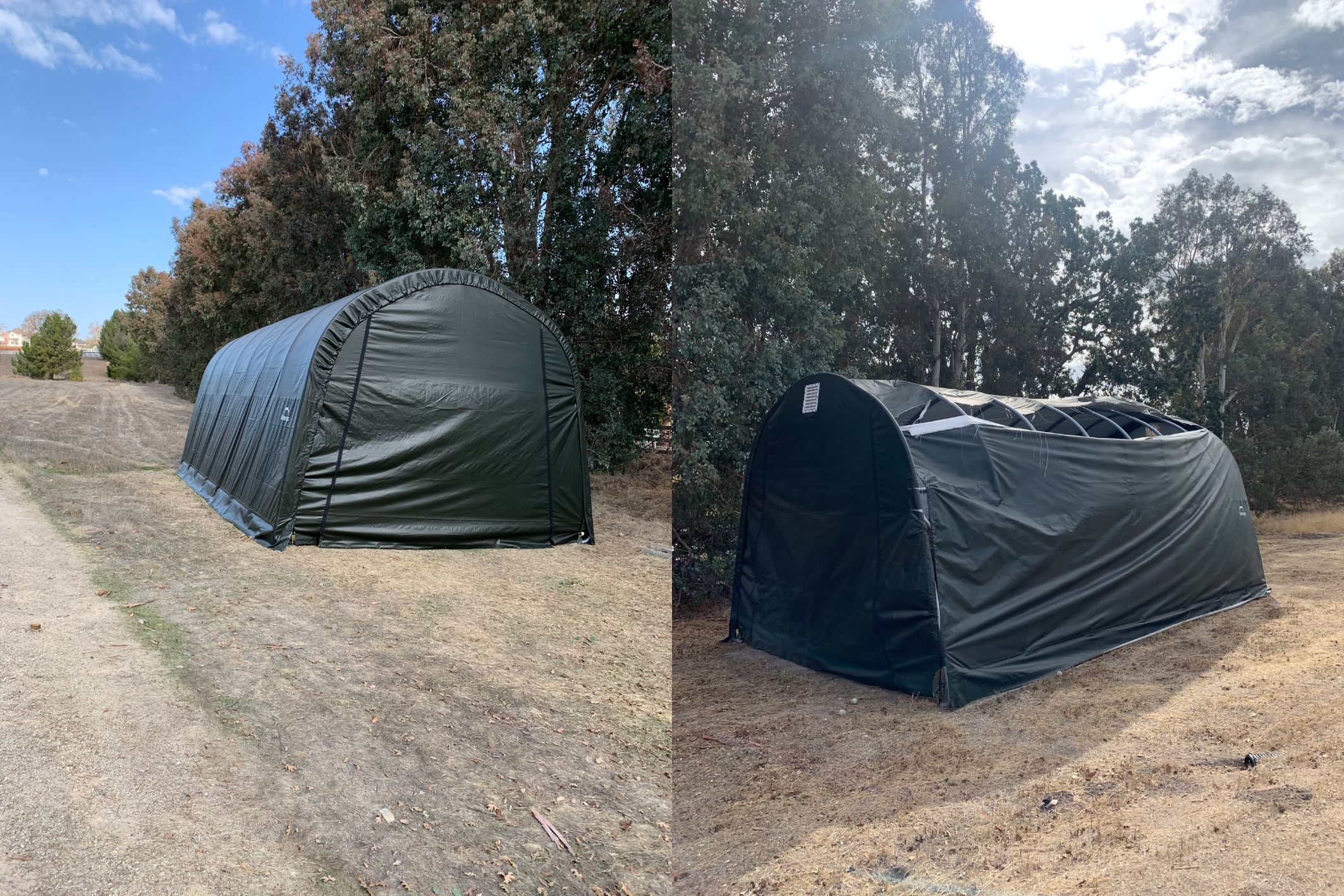 Shelterlogic Review
Garage in a Box
I bought a Shelterlogic Garage in a Box (15 x 28 x 12 ft. Round Standard Green) and installed it in December 2020. This is the longterm review of a Shelterlogic Garage in a Box 2 years later.
Takeaways
I found the lifespan of the cover to be just about 2 years
The frame is well constructed and is still in good condition
I would recommend a heavier duty cover or using metal siding / roof
The zippers and anchoring system are both underwhelming
Depending on the cost of nearby storage options and your weather conditions, the Shelterlogic garage in a box is a good option.
Shelterlogic Garage in a Box (15 x 28 x 12 ft. Round Standard Green)
I got the Shelterlogic 15 x 28 x 12 ft. Round Standard Green Garage in order to store a boat out of the rain to protect it from UV rays. It has a heavy duty 2-3/8 in. diameter steel frame – rated for winds up to 90 MPH and a snow load of 40 PSF. That said, I got the standard cover, not the heavy duty cover. Below are images from after just setting up the garage.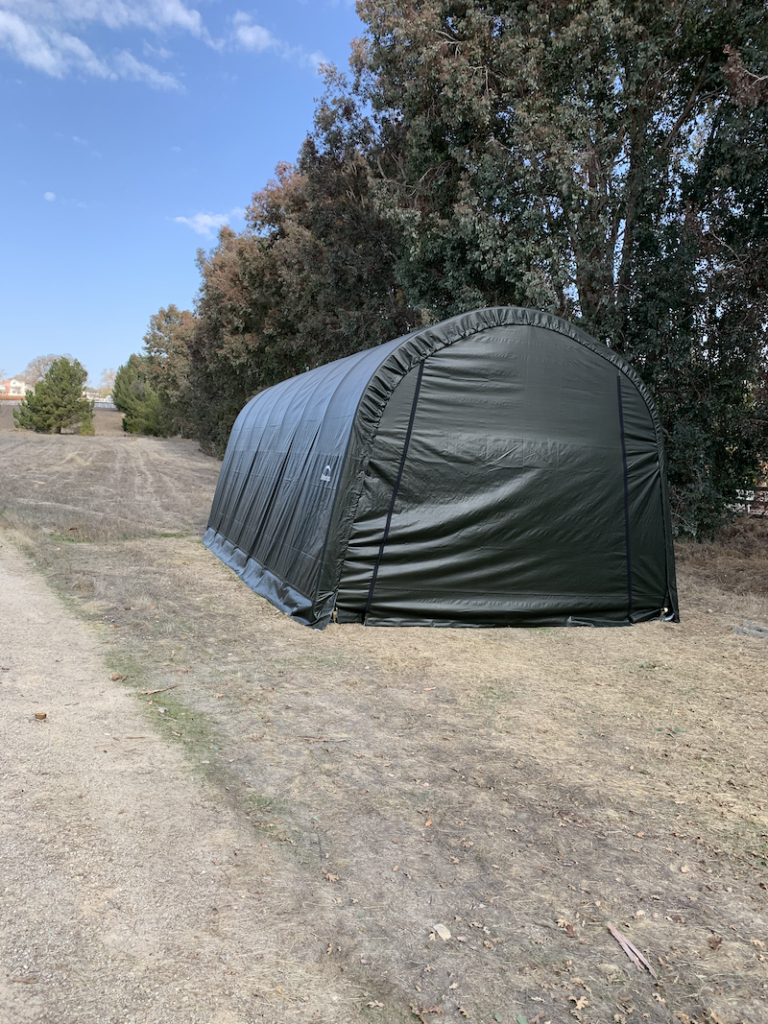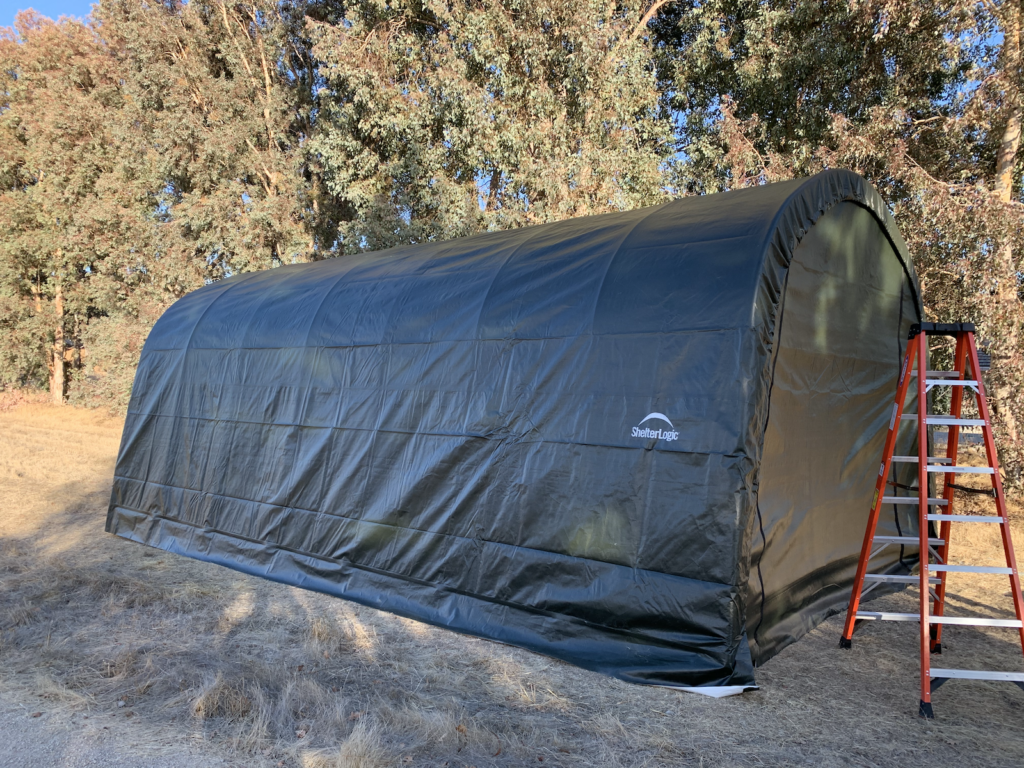 Weather / Conditions
I setup the Shelterlogic garage in a field with significant sun exposure, wind, and significant rains a few times per year. Rainstorms usually get strong winds; sometimes with gusts up to 40 or 50 mph. The chart below shows average temperatures, there are frequently days well above 100 degrees.


Frame
The frame is well made and very sturdy, holding up well in our storms. We had a strong windstorm right after I setup the Shelterlogic and it did great. While setting up the frame (covered in my other post) was a little tricky, it has held up very well over the last two years. The frame is powder coated to help protect against corrosion and rust and that has held up well – I have not noticed any corrosion or rust on the frame. No complaints here.
It's worthing noting that the frame is heavy duty 2-3/8 in. diameter steel which I believe may be beefier than other products such as the the portable shed series or other portable garages and greenhouses. I have seen 1 3/8″ and 2″ diameter models.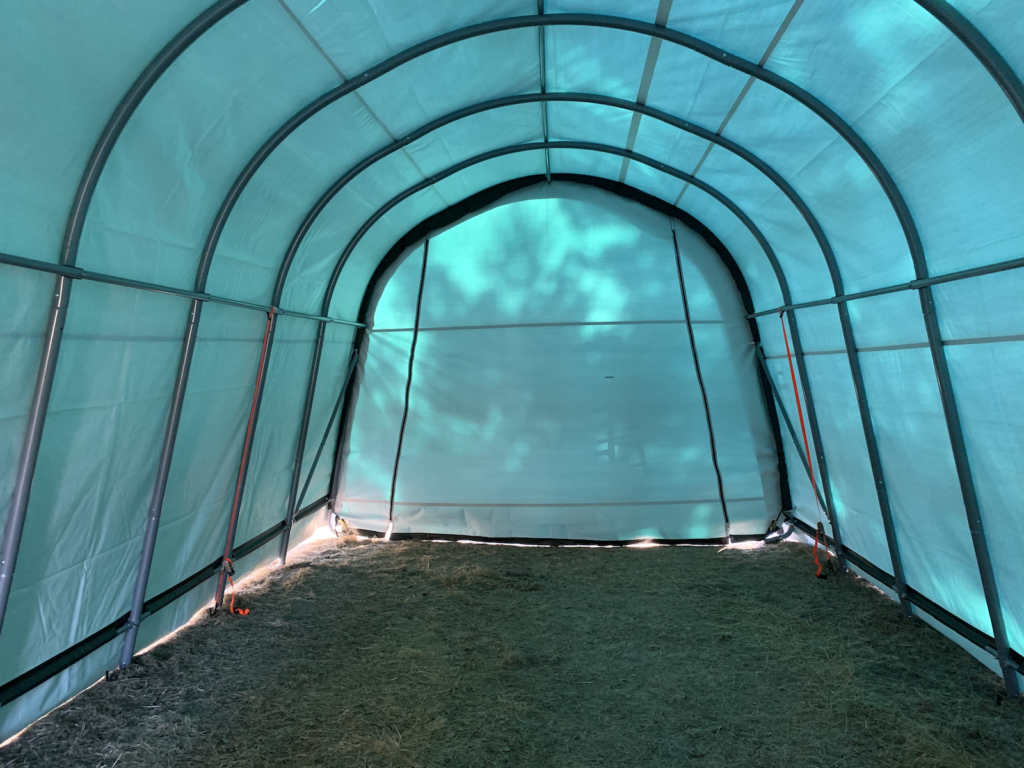 Seems
The seems on the Shelter logic garage in a box has heat welded seams which are supposed to be waterproof. These held up well over the last 2 years. Never noticed any water leaking in and the seems did not tear or rip.
Zippers
While the zippers initially worked well, they did not hold up well in the long term. After 12-18 months, the zippers were more difficult to close (opening usually wasn't an issue). I think it may have been due to UV wear. While they still worked at the end of 2 years, they were not always easy to use and given the cost of the structure, it would have been nice if higher quality zippers were used.
Cover
As I mentioned I got the standard cover (7.5 oz. Cover made from polyethylene) – it feels like a heavy duty tarp. For the first year, this cover held up well to the elements. Around the two year mark, it ripped and failed in a rain / wind storm. While disappointing, it was still cheaper than paying for indoor storage and was worth it. That said, I was hoping to get 3-4 years out of it. The standard cover has a 1 year warranty claim period and I ended up with a 2 year fabric life. The heavy duty cover is much thicker and has up to a 10 year prorated warranty while the ultra duty cover has up to a 15 year prorated warranty period. Both the heavy duty and ultra duty will only cover panels for 3 years.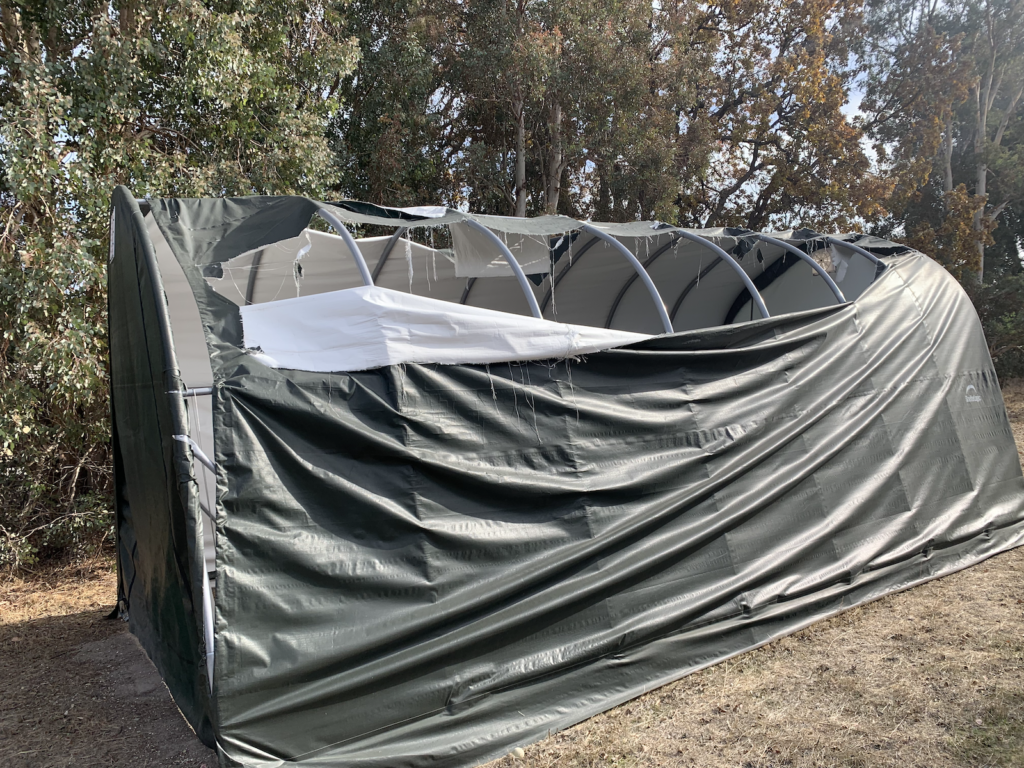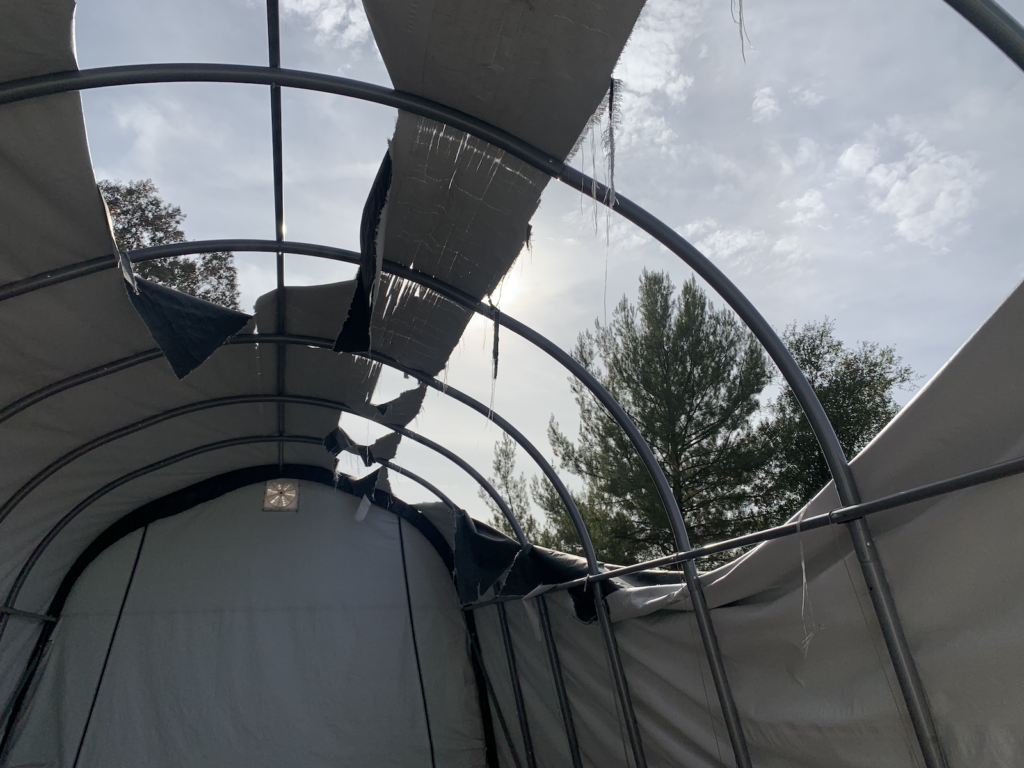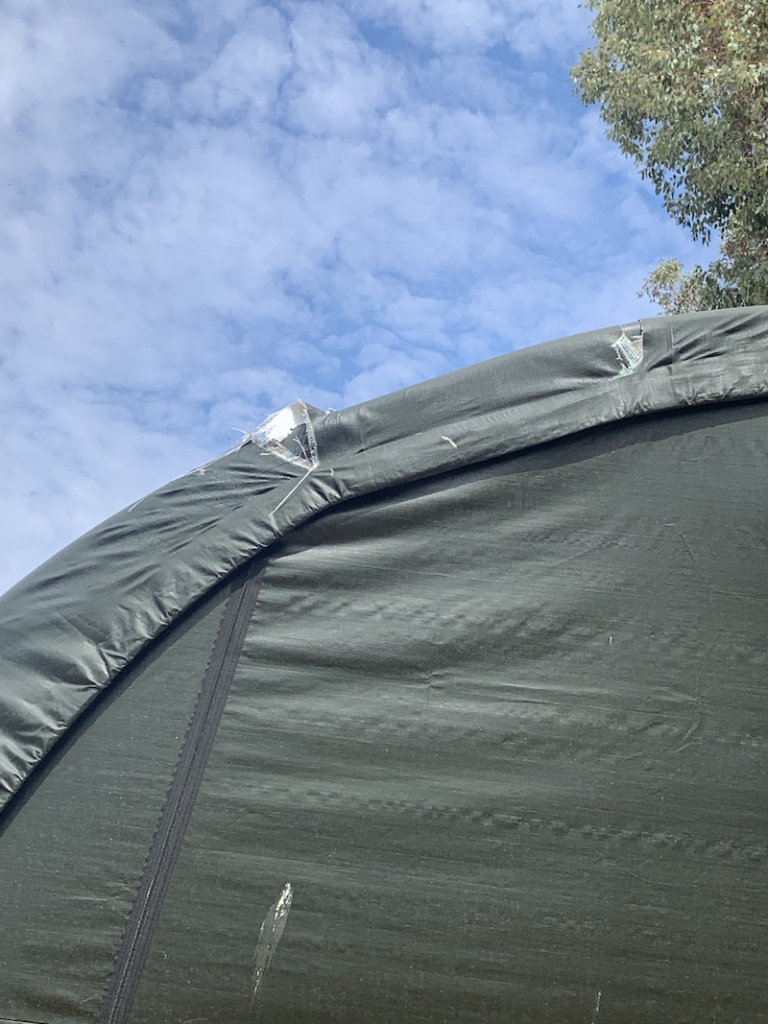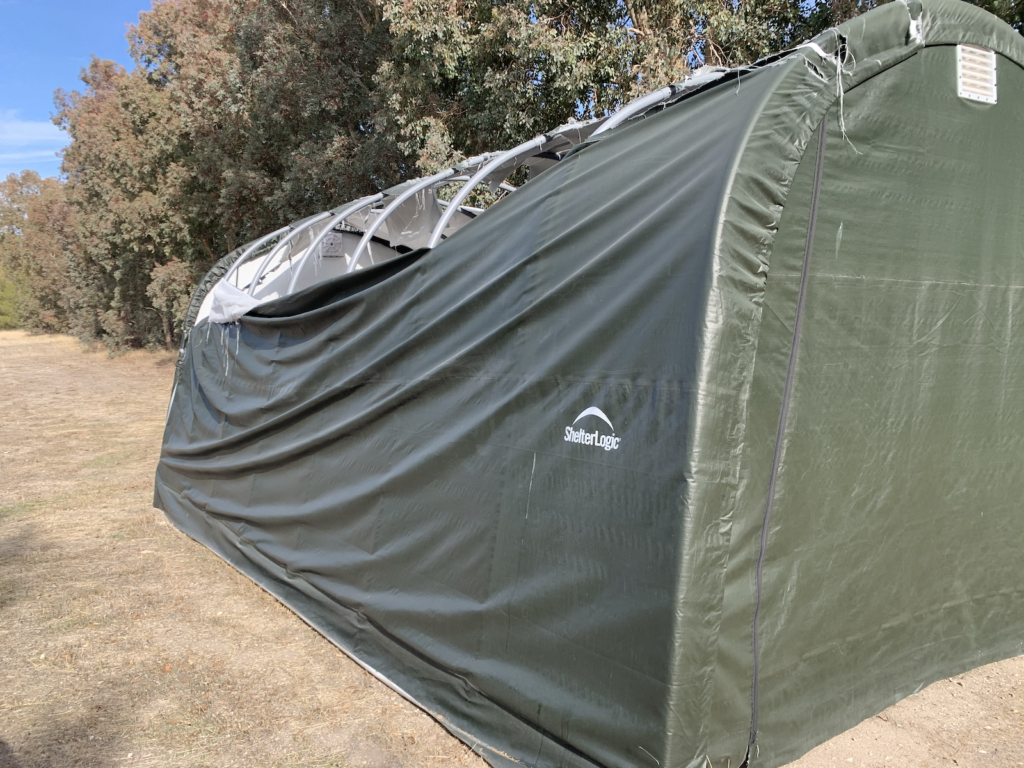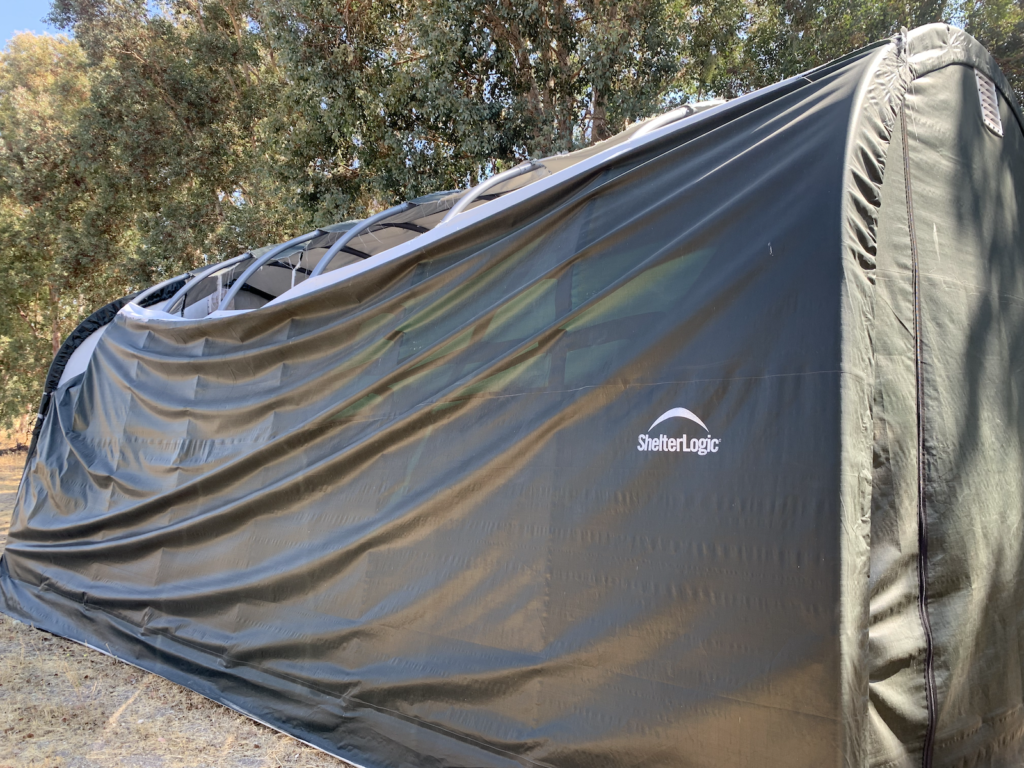 Anchoring System
The provided anchoring system consisted of 4 augers and metal cables that were supposed to loop around the end feet of the garage. I found this to be very underwhelming as 4 anchors did not seem to be enough for a 28 foot long structure. Additionally, the provided anchoring method did not tension the structure to the ground – there was significant slack in the rope. Both of these concerned me given the significant wind we get in rainstorms.
I ended up buying another 6 40″ augers so I would have 5 total anchors per side. I then looped aircraft cable through the auger and turnbuckle and then through the turnbuckle and protruding bolt (or upper rail). I ran out of turnbuckles and then just used ratcheting tie downs – I intended to replace these with the aircraft cable / turnbuckle combination but they held up well and I never got around to it.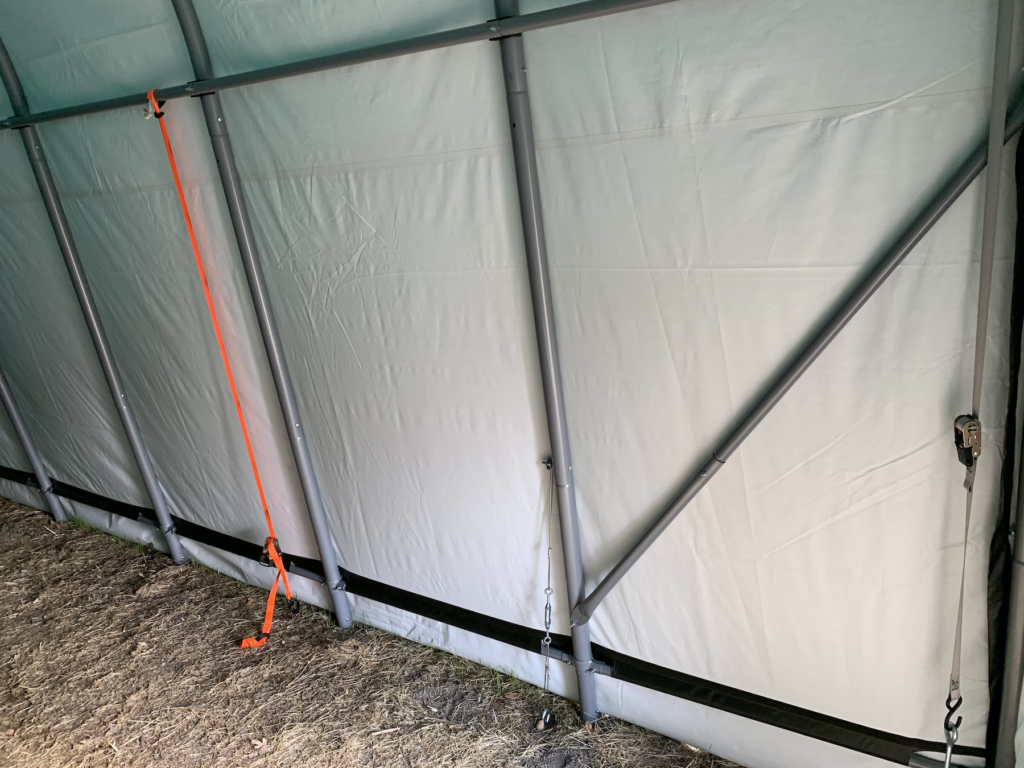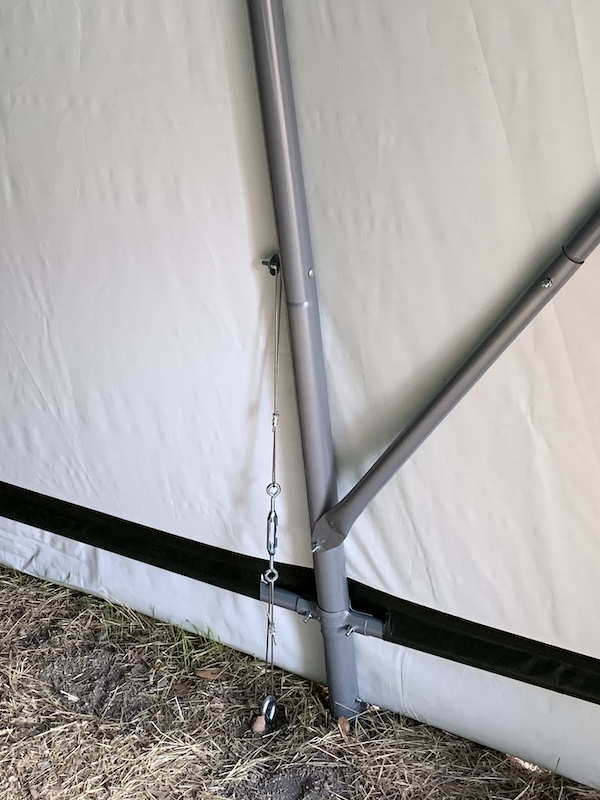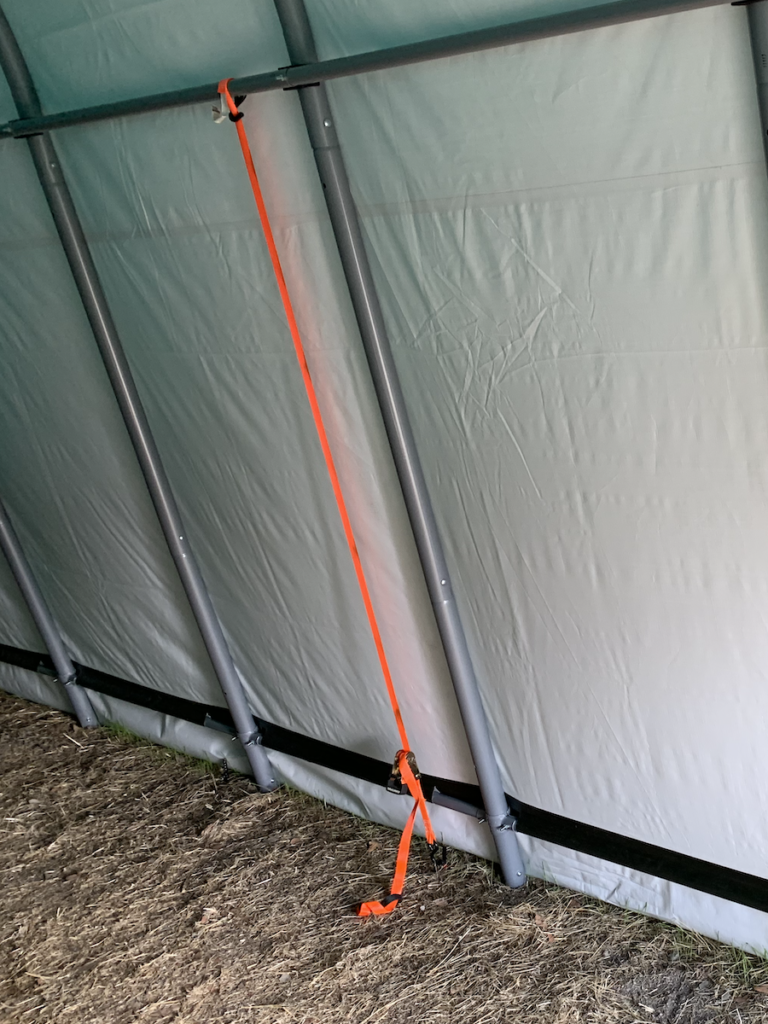 Customer Service
As noted in the installation guide, I had to reach out Shelterlogic's customer service due to a cracked connector piece. They were unresponsive to phone or email requests. That said, it's easy to get through to someone if you are looking to buy a replacement cover for your Shelterlogic.
Overall
All in, the 2 years of life from the cover was disappointing, but otherwise the Shelterlogic garage in a box held up relatively well. I have ordered a replacement cover, but upgraded to the heavy duty 14.5 oz. cover (made from PVC fabric). Ideally, instead of replacing with the heavy duty cover, I would have replaced the cover with metal roof (inspiration here) and would pour a concrete foundation.
This is cheaper than many structures and storage options. Depending on how long you need a storage solution; I would recommend the Shelterlogic garages with either the heavy duty cover or just ordering the frame and putting on metal siding and roof.