When thinking of classic American BBQ, Texas, the Carolinas, Georgia, and Memphis are among the locations that come to mind. That said, California is making a mark as an up and coming BBQ state, becoming known for Santa Maria style BBQ.
Santa Maria style barbecue is California tradition dating back to the 1800's when Mexico owned much of California. While this delicacy is popular amongst California residents, it is difficult to find in the rest of the United States and has become an iconic of California BBQ.
As the name implies, the tradition of Santa Maria style grilling originates from the Santa Maria Valley on the California Central Coast where ranchers historically would dig large pits filled with coastal live oak (commonly called red oak on the Central Coast) to grill over. This produces a rich smoky flavor from grilling over a pit of oak that cannot readily be replicated by charcoal or gas grilling.
While modern Santa Maria style grills typically feature cranks that will raise and lower the surface of the grill to control the grilling temperature, original Santa Maria style grilling used skewers to cook the meat over the fire.
What Wood to Use for Santa Maria Style BBQ
Charcoal and gas grills pale in comparison to the Santa Maria style grill when considering the flavor the grill contributes. Santa Maria style grilling typically involves California Red Oak or California Coastal Oak. This produces a rich, smoky flavor that permeates the beef.
What to Grill for Santa Maria Style BBQ
With Santa Maria style grilling, the barbeque setup is only half of the equation. The other half is the food. Santa Maria style BBQ historically used top sirloin as the featured cut of meat. As prices for sirloin increased in the 1950's, butchers in the Santa Maria Valley created a new cut of beef: tri-tip. While top sirloin is still available, tri-tip has become the most popular cut of beef for Santa Maria style grilling. Since tri-tip is a large cut of steak (often 3 pounds or more), you'll typically get slices of a tri-tip. A popular variation is the tri-tip sandwich, featuring thin slices of tri-tip on a french bread.
Santa Maria style tri-tip often features sides of pinquito beans, garlic bread, and salad. While tri-tip is the primary food associated with Santa Maria style grilling, linguica, chorizo, and other cuts of steak (such as sirloin) are also popular choices.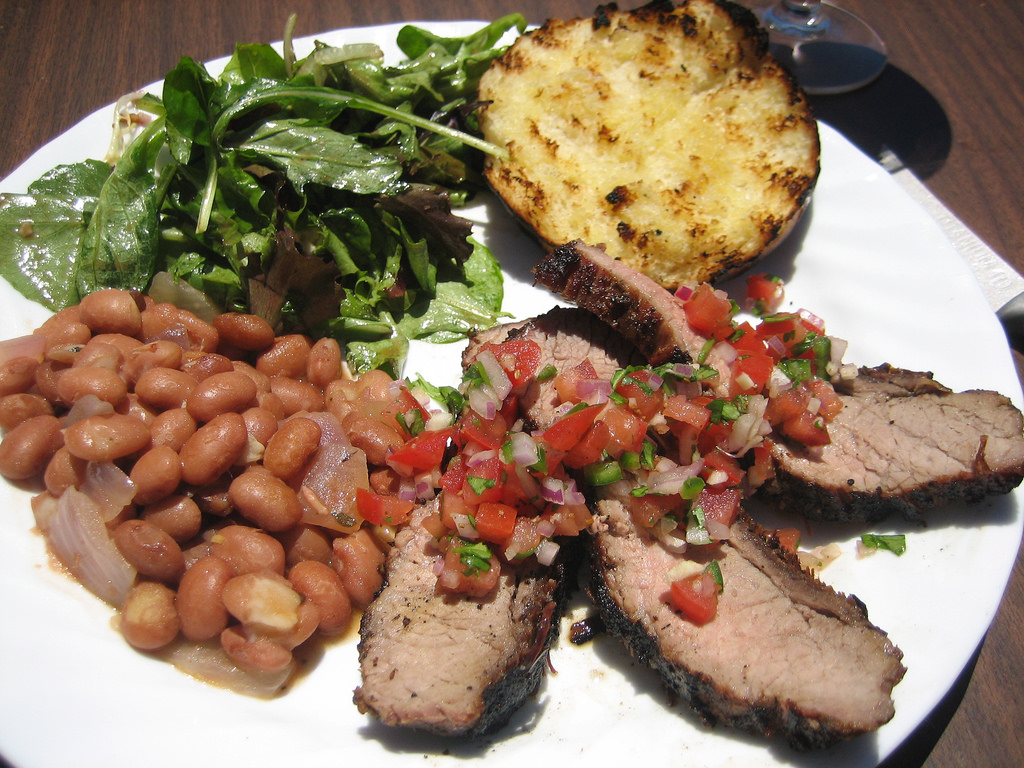 Photo Credit: Eugene Kim, Santa Maria-Style BBQ, Creative Commons 2.0 Generic License
How to Season Santa Maria style BBQ
The emphasis of Santa Maria style grilling is smoke and straightforward seasoning. While traditional BBQ typically focuses on marinades and sauces, Santa Maria style tri-tip is usually seasoned with a salt, pepper, and garlic based dry rub. This enhances the the smoky flavor of the meat rather than masking it with powerful sauces. While BBQ restaurants on California's Central Coast do provide unique BBQ sauces to compliment the oak flamed and Santa Maria style seasoning, salsa is traditionally used instead of BBQ sauce and is a popular choice with locals. The salsa showcases the classic Santa Maria style flavor rather than drowning it out.
Where to Get Santa Maria Style BBQ
If you're not on the California Central Coast, odds are that you'll have a hard time finding a place to try Santa Maria style BBQ. To try some of this oak grilled goodness, you'll need to find your way to the California Central Coast – San Luis Obispo, Santa Maria, and Santa Barbara are known to feature some of the best Santa Maria style BBQ restaurants. Some of our favorites include:
The Hitching Post I & II
Jocko's
Old San Luis BBQ
The Far Western Tavern
Cold Springs Tavern
Featured Photo:
Photo Credit: Eugene Kim, Pre-Seasoned Niman Ranch Tri-Tip, Creative Commons 2.0 Generic License (modified with text)