How to Buy Gas Grills
Due to their ease of use and convenience, gas grills are the most popular choice for many backyard grill masters. While they are more convenient, that doesn't mean they are simple. Gas grills are packed with features that can be overwhelming. Don't worry though, we're here to walk you through buying a gas grill. If you're not sure you want to buy a gas bbq, check out our bbq buying guide.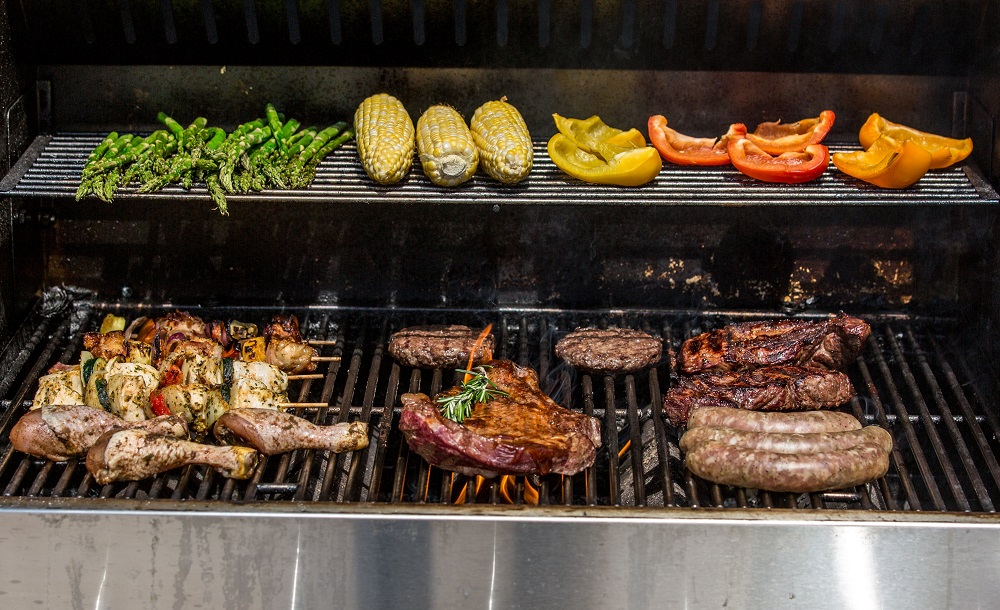 Gas Grill Fuel Type
Even if you've settled on a gas grill, you still have to make a decision around fuel types. You can choose either propane or natural gas. Propane is more common and requires you to get a propane tank which will need to be filled up periodically (usually $20 to $30 per fill) at a gas station, convenience, or hardware store. The biggest downside of a propane grill is that you can run out of propane while cooking – for this reason it's a good idea to buy two tanks and always keep one filled.
Instead of using a tank, natural gas has a hose that connects directly to a natural gas line on your patio. These units may be slightly more expensive than their propane equivalents but as long as you pay your gas bill, you'll never run out of propan mid grill.
While many companies offer conversion kits to turn a propane grill into a natural gas grill (or vice versa), these are typically not provided by the manufacturer of the grill and do require some mechanical aptitude and time to convert. Additionally, converting your grill may void a warranty on your grill.
Related: What is Santa Maria Style Grilling
What's the Grill Made of?
As with anything, the materials the grill is made from dictate whether it is a $150 grill that will last a couple years or a more expensive model that will last more than a decade. Generally, you can tell whether a grill is made of quality components by how heavy it is. A grill that is made from a heavy steel will also retain and distribute heat better than a thinner steel.
Good materials include:
Stainless steel

Enamel bonded steel

Cast iron

Cast aluminium
One thing to keep in mind is that while stainless steel and aluminium are quality materials and will not rust, they will discolor over time as you use them. Similarly, if cast iron is not painted well, it will rust (so make sure to pay attention to how well painted the grill is). Enamel will not rust unless it is chipped.
If you live in an area with a lot of humidity, your grill will rust. It doesn't matter what material it is, it will eventually rust. Stainless steel or thick aluminum are your best bets for materials for staving off rust. While a good warranty is always beneficial, it is critical for people who live in areas with humidity if you don't want to buy a new grill every couple years.
While welds are not a material, a good grill is welded well. Fully welded polished seems and double lined lids are features often found on higher quality grills.
Multi-zone Grilling on a Gas Grill
While we touched on size earlier, this comes up again when talking about gas grills as you want to be able to do multi-zone grilling. This means that you should have different zones of the grill with different temperatures. One zone with high heat grilling and another with low heat grilling.
In order to properly setup multi-zone grilling on your cooking surface, you should make sure you have sufficient area to support multiple heat zones.
Also critical for proper multi-zone grilling is proper burner setup. You can achieve multi-zone grilling with a two burner setup, but it is easier to achieve with 3 or more burners. With at least three burners, you can also setup high, medium, and low zones for more heat control. Generally, the more burners you have, the more zones you can setup.
With 3 or more burners, you can also better setup indirect heating, which is great for more slowly cooking your meat.
What you Need to Know about Burners on a Gas Grill
The burners are what is going to be generating your flame for grilling so they are kind of important. As with the price of gas grills, there is a huge range of burner options and features you should know about when choosing a grill. Typically, if you are buying a cheap grill, the burners are one of the places quality is sacrificed.
Good quality burners are made of stainless steel or brass. These will last longer and avoid problems that plague other materials – aluminium and cast iron burners will rust out. Stainless 304 is the best quality.
While must gas grills do not get as hot as charcoal grills and can't get as dark of a sear, gas grills equipped with infrared burners can. These burners can be found on more expensive models. Infrared burners work by placing ceramic, glass, or metal plates over the gas burners. When the flame hits the plates, it superheats and radiates more heat than a normal burner, with the ability to heat grills into the 700 degrees ballpark. If you grill a lot of steaks or are on a quest to grill the perfect steak, you should consider this option.
When comparing grills, it is important to consider the amount of grilling space to burners. Some of the cheaper grills will have a lot of surface area but don't provide enough burners to adequately heat the grill evenly creating hot and cold spots. If you see a grill that has the same surface area as a 4 burner grill but only has 3 burners, it's a pretty safe bet that this grill will have a lot of hot and cold spots.
What Are Flavor Bars?
Flavor bars sit in-between the cooking surface and the flames to more evenly distribute heat and to protect the burners from dripping grease. These will increase the longevity of your burners and need to be periodically replaced.
Flavor bars can be made from several different materials (metal, ceramic rocks, lava rocks). All eventually need to be replaced. Metal flavor bars rust and rocks get soaked with grease.
What kind of grill grates should you get?
The grates on your grill can make a big difference on your sear marks and can have very different lifespans depending on their material. Generally, you want a nice wide grate to create a thick sear mark on your steak.
Porcelain coated cast iron – these are the best; they leave great sear marks and are easy to clean

Stainless steel grates / porcelain coated stainless – leave nice sear marks and are easy to clean

Cast iron grates – these conduct heat well to the meat and leave nice sear marks but need to be oiled to avoid rusting

Chrome / nickel coated wire grates – these are cheaper, tend to rust, and don't leave wide sear marks
What kind of igniter should you get?
All gas grills have an igniter. Some are electric (battery powered) while others create a spark from a dial or button. Both types work but batteries will need to be replaced periodically.
Some gas grills are equipped with crossover ignitions which work by lighting one burner first and then the flame crosses over and lights subsequent burners.
Additionally, all grills should have a hole where you can light burners manually with a long match or lighter.
Should You Get a Side Burner on Your Grill?
While a side burner may look flashy, they don't get nearly as hot as a main burner. They are much better at warming, toasting, and simmering than actually cooking. Side burners are a nice to have feature, but most people don't frequently use them. If the grill you're eyeing comes with one, great. If not, don't lose any sleep (or cash) over it.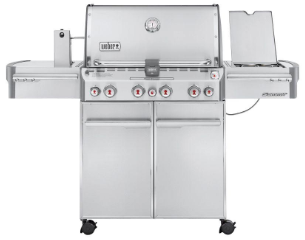 What About a Rotisserie?
A rotisserie is great for cooking whole chickens (and even turkeys) but are typically not a standard feature on a gas grill. If you cook a lot of whole chickens or turkeys then this might be a feature that you want to spring for. When selecting a rotisserie to add to your grill, keep in mind that the best rotisseries are baskets rather than the more common skewers.
Do Gas Grill Thermometers Work?
Short answer is not really, don't sweat it if your grill doesn't have a thermometer. The reason for this is that grills typically measure the temperature somewhere in the hood vs where the food is actually cooked. If you want to know the grill temp, buy a thermometer that can sit on the grill alongside your meat.
Our Favorite Gas Grills
If you just want the highlights, this is your section. Our picks for the best gas grills are:
Best affordable gas grill to use for a season or two
If you don't plan to keep your grill for 5+ years or you don't plan to move and take your grill with you, the Char-Broil Classic 360 3-Burner (affiliate link) is for you. This gas grill offers plenty grilling space and burners at a price that won't break the bank. While you'll enjoy some backyard BBQ's and grill up some great food with this gas BBQ, it's not made as well as the higher quality grills and won't last forever. This is a great entry level grill that you'll enjoy all summer long.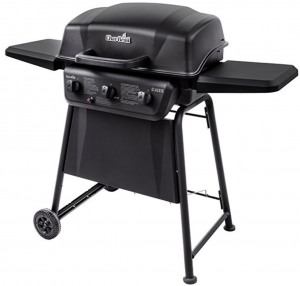 Best Value Gas Grill
If you're ok to spend a bit, you can pick up a Weber Spirit Grill (affiliate link). This is our pick for best value. While it's not cheap, it is a Weber which have been reported to last more than 15 years if they are well taken care of. The Weber Spirit grill features quality flavor savor bars, and porcelain enameled cast-iron cooking grates as well as a higher quality burners and materials. You can typically find the Weber Spirit II 3 burner for about $500. If you don't want to spend that much but still want to invest in a grill that will last, you can check out the 2 burner version which usually goes for about $350.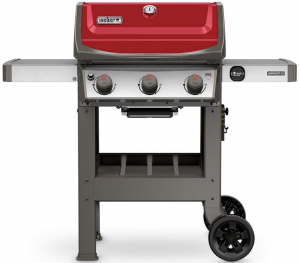 The Standard for All Gas Grills
If you're willing to shell out a little more cash, the Weber Genesis (affiliate link) is the standard to which all gas grills are compared to. It is not uncommon to find a proud Genesis owner who has been grilling on their Genesis for 10+ years. While these grills share many similarities with the Spirit, they feature 20% more grilling space, an extra 7,500 BTU's, and heavier duty lid enclosure that will help the efficiency of the grill. Typically these grills will set you back about $700.