A rug for your room is a fantastic investment in your design. Choosing the right rug size, design, and placement has an impact on how your home functions and feels (cozy!), not to mention looks! In this rug guide, we'll go over the standard sizes recommended for each room. Let's start where people hang out most – in the living room.
Standard rug sizes
Rugs come in a few standard sizes, get much bigger than that and they get really pricey and more limited on design options.
2×3
3×5
4×6
5×8
6×9
8×10
9×12
And less commonly used are 10×14, 12×18, and 20×20.
Area Rug Size for Living Room
There are a few schools of thought on design. The first is that getting the right size will anchor the room. Designers will say that the rug is the foundation of your living room, so picking the right size will "balance" the space. In non-designer speak, just pick a rug that doesn't look funny! Big rooms need big rugs and smaller rooms need smaller rugs. The most common mistake people make when choosing a rug is picking one that's too small.
Open concept spaces usually need a large 9×12 rug. Placing all the furniture on the rug will prevent it from looking like it's just floating there with no defined boundaries. However 9×12 rugs are more expensive than others, so you might be able to get by with an 8×10. Just place the rug so that the first six inches of the furniture is over the top, front legs plus a little more.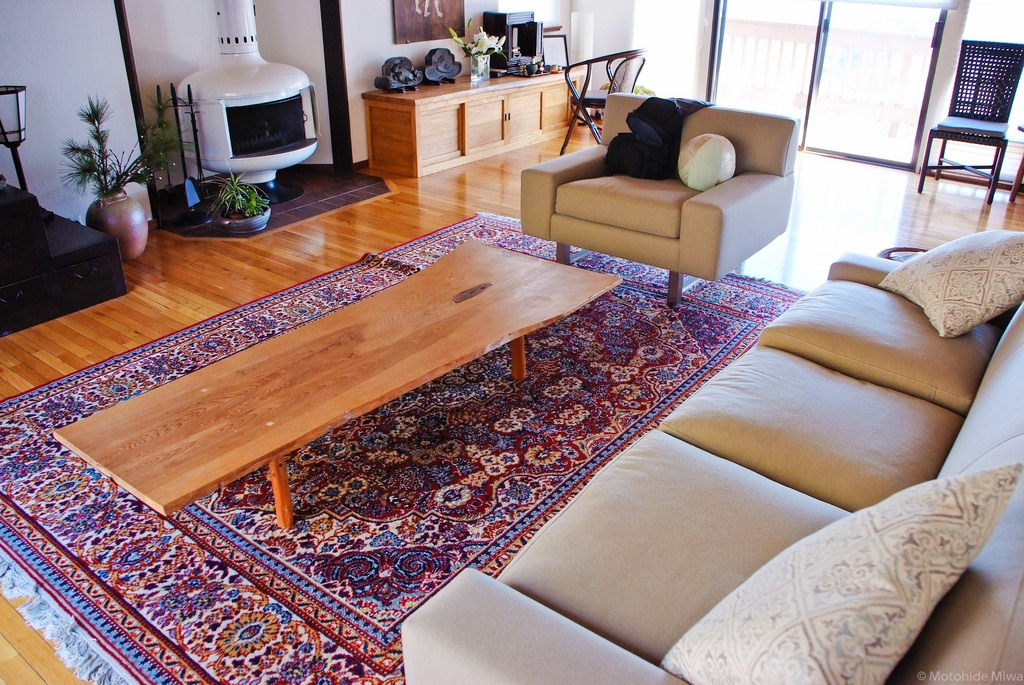 If you can afford it, buying a large rug that leaves several inches beyond the furniture on the border is really classy, defines the space, and prevents furniture from slipping when people collapse in to your sofa! However don't run your rug up against your wall. Leaving a border of at least 10 inches between your rug and the wall gives a nice feel to the room.
In apartment living and the world of smaller homes, pick a rug that just fits in the center of the living space. Most people arrange sofas and chairs around a coffee table and conversation area. A 6×9 or 5×8 rug usually works well, just be sure that the rug runs most of the way up to the sofa and chairs. Leave no more than six inches between the front legs of your seating furniture and the edge of the rug. You don't want your rug to look like a desert island.
Picking Patterns and Color For Your Rug
Now that you know the rug size, how do you know what color or pattern to pick? It's a hard question!
Think about the color scheme you want for the room. A relaxing blue or a bold oriental? A neutral gray or subtle jute? Most rug retailers now have pictures of their rugs in a living room, so look at photos for inspiration.
When picking a pattern, remember that your furniture might cover it up! If you love the center design of a rug, you may have to choose between that and your coffee table.
Another thing to consider (yes another!) is texture. Texture makes the room feel more cozy. While a subtle jute or natural sisal rug may not add a lot of color, the bumpy feeling of the rug softens the appearance. Think about a photo with a moroccan shag rug versus a plain single color, low pile rug. Don't you want to wiggle your toes in the soft shag?
It's also important to consider your living situations. If you have a dog that shed yellow hair, a dark colored rug might mean you have lots of cleaning to do! If your kids forget to take off their shoes occasionally or like to eat snacks on the rug, white probably isn't the best option.
Tips for measuring for a living room rug
Place all the furniture in your desired spot
Measure for the rug size you think you want
Tape the floor for a few different rug sizes
Pick the one you think looks best!
Area Rug Size for Dining Room
Dining room rugs are a lot simpler. You need a big enough rug that when the chairs are pulled out, they will still be on the rug. So go pull out the chairs from your dining table like you're going to sit down, then measure!
Designers say you need eight inches of rug left on the border when the chairs are pushed in, or 24-36 inches from the table. If you have the budget, then bigger is better! Use a large rug with about a foot of bare floor border around the perimeter to anchor the room.
At a minimum you will probably need an 8×10 rug. These are the usual sizes for dining room rugs:
6 chair dining table needs an 8×10
8 chair dining table needs a 9×12
10 chair dining table needs a 10×14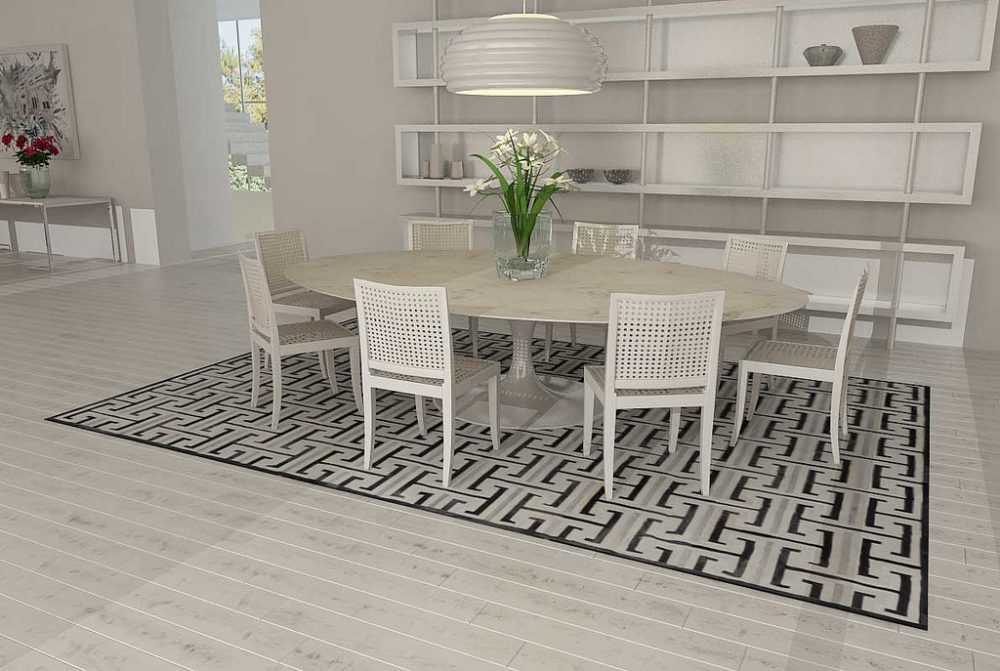 If your dining table is square or round, then by all means get a square or round rug! Matching the shape of your rug to the shape of your table is the best way to go. Most square tables that have eight seats will need a 10×10 rug. Round tables likely need a 9×9 round rug.
If your dining table is against a wall, a 5×8 or 6×9 will likely work, just be sure to measure.
Again, using tape on the floor is a great way to help you imagine the size of rug that you need! Really, you just want guests to avoid tripping the rug when they go to pull out their chair. Containing the table and chairs is your primary goal.
Area Rug Size for Bedroom
Choosing an area rug for the bedroom depends on the size of your bed and layout.
You can choose to frame the room by placing the rug completely under the bed and nightstands, or go a size smaller and place it just under the lower ⅔ of the bed, so that your feet hit it when you step out of bed. You'll see some photos where the rug is at the lower half of the bed with most of it sticking out from the bottom end of the bed – that just defeats the purpose! It might look alright, but you want your feet to hit the rug when you get up.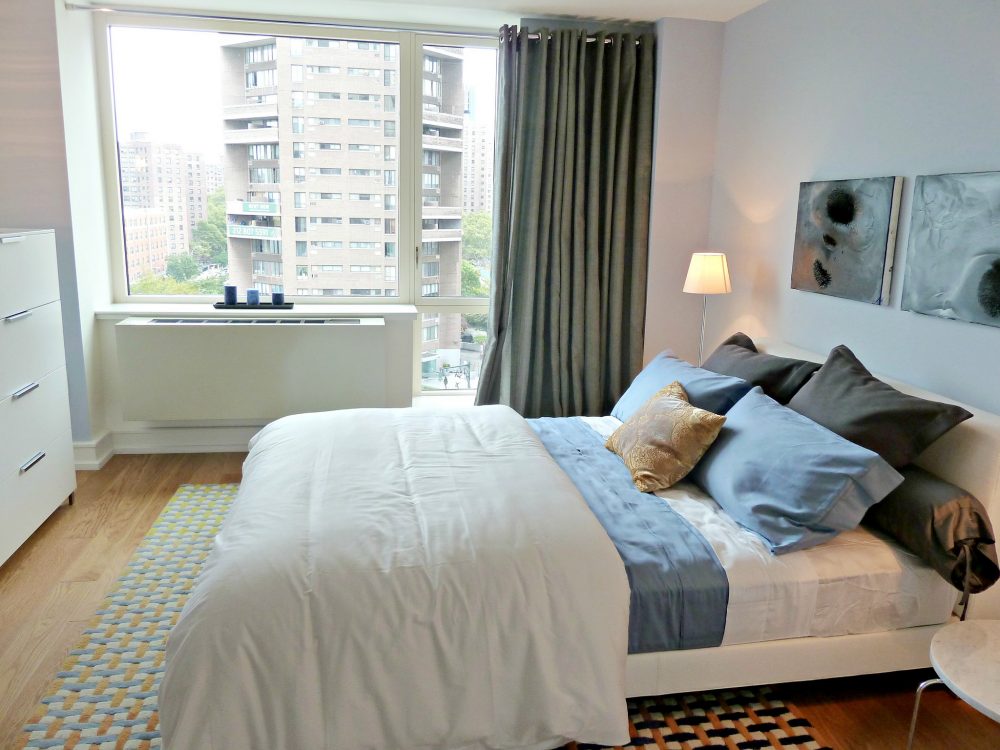 A queen bed needs an 8×10 to have 2'6" on each side of the bed and 3'6" at the end of the bed.
A king bed needs a 9×12 to have 2'10" on either side of the bed as well as 4' at the end of the bed.
A twin bed can use a 5×8 in either direction depending on the size of the room.
Two twin beds can use a 3×8 runner in between or both fit on an 8×10 minimally. A 9×12 would be best for foot traffic.
Another option is to use runners on either side of the bed. This works well when cost is prohibitive and still functions the same as a large rug. Also if your bed is up against a wall, don't buy a huge rug just to hide the majority of it! Using a runner or smaller rug will add softness to the room and give your feet a cozy place to land when you get up in the morning.
Rug Runner Size for Hallway
Rugs are underestimated in hallways. High traffic areas bring dirt and rugs are extra helpful in preventing it from being tracked around the house. Hallways aren't usually overtly decorated either, so a rug can really brighten the space and define its style.
Rug runners come in a variety of lengths and sizes. Most are two feet wide and range from six feet to 12 feet long. The majority of hallways use a 2×8 rug (i.e. the most popular runner size), though that isn't the rule. When choosing a rug for your hallway, make sure that you have bare floor showing on both sides width-wise of the runner and it should cover 75% of the length. You can also use more than one rug runner in long hallways with a few feet in between them.
Rug for Office
The best rug for your office depends on the size and set up. If you have a rolling office chair, you want the chair to stay on the rug when you push back to get out of your seat. Otherwise, it makes rolling it back on the rug not so easy – and who wants to do that all the time?
It's also important you think about the thickness of the rug for rolling chairs. The thicker the rug, the more the rug will "walk" meaning that it needs vacuuming to straighten the pile. A flatweave rug or indoor/outdoor with carpet casters are the best options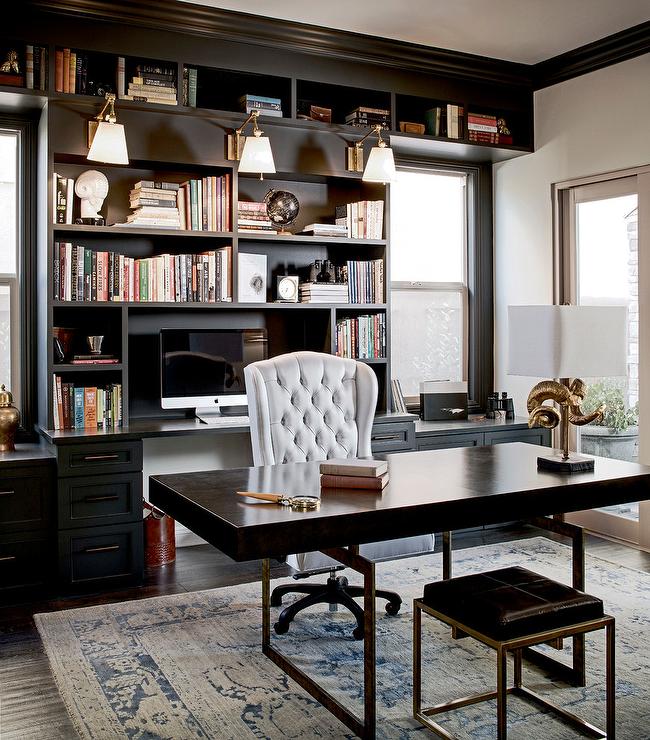 If you have an office desk where you can see the legs, a large 9×12 rug is probably your best option. It will have space for the desk and chair under it, and possible two client chairs on the other side of the desk. This is assuming a traditional office space with desk in the center.
There's other setups as well. With office furniture that doesn't have visible legs, you can choose two smaller rugs for either side of the desk, a 5×8 should work nicely. If your desk is against the wall, you only need a rug thats big enough for your chair.
Rug Size for Kitchen
Why would you want a rug in the kitchen? It softens the look of the space, minimizes slippery floors and adds cushioning and comfort when standing on a hard surface. Rugs are often in front of places where people might spend a lot of time standing – the kitchen sink doing dishes or the range cooking.
The great thing about choosing a rug for your kitchen is that there are no rules. Put a round rug in the middle, a runner down the center of a galley kitchen, or an L shaped rug to cover more surface area. A U shaped kitchen can have runners on all three sides, or small rugs in front of the often used areas.
Rugs in front of the sink or range are usually 2×3 size. Runners are usually two feet wide and come in a wide variety of lengths. Anti-fatigue mats with extra cushioning also come in many colors and designs now, so those are a great option as well.
Rug Size for Entryway
The purpose of an entry rug is trap dirt as people are walking in the house. When picking this rug size, look at how large your entryway is. If you have a large space for people to come in, you'll want a larger rug. A 2×3 rug in this sort of space with look out of place and itty bitty.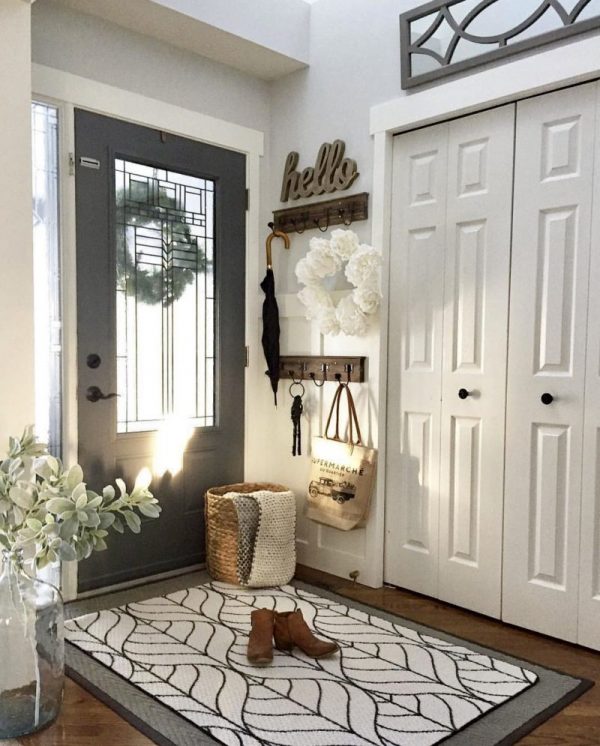 Conversely, a big 5×7 in a small entryway will be too large. As mentioned above and applicable when choosing a rug for your entryway, there should be space around the rug to see your floor. This gives the space proportion.
A long narrow entryway can use a runner. This gives space for furniture against the wall like a console table or bench to remove shoes. A wider entry should have a rug placed in front of the door. If you have double doors, the rug should lie in front of both doors.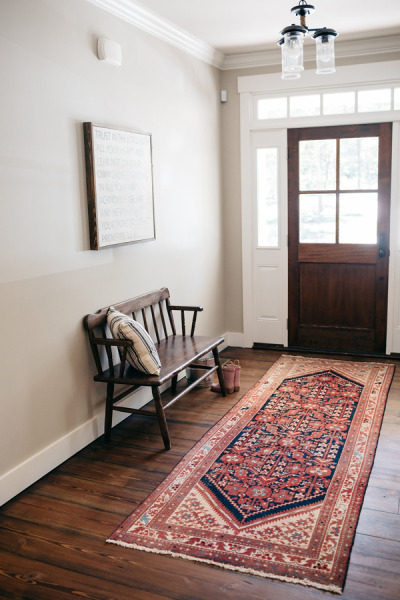 Since mud, dirt, and water could be tracked in, choose a low pile rug that's easy to clean. Don't forget a rug pad underneath to keep the rug from slipping when people walk in the door.
Using Rugs to Define Living Spaces
Open floor plans are wonderful and extremely popular, but it doesn't give any natural way to break up the space. Kitchen flows in to dining which flows in to living room. This isn't bad, but if you would like a rug under your dining table and in the living room, you will have to break up the space to prevent it from appearing disjointed.
Place a furniture grouping in the living area. It's helpful if there is a chair or sofa with the back to the dining area, or even just one side of the sofa. See photos below. This rule of arranging furniture to define it's own little space is helpful for studio apartments as well. It defines it's own space without a wall or making the room feel smaller.