If you're looking to buy a bar stool, it might feel a little overwhelming with all of the different options available. Having the right bar stools can help make your space excellent for entertaining and relaxing. This bar stool buying guide will help you figure out how to buy the right bar stool for your space.
Bar Stool Height
One of the first decisions that you have to figure out is how high should your bar stools be. If your bar stools are too high, your legs will be crammed up against the table / bar surface. Too short and your eyes could be at counter height.
As a general rule you want about 12" of space in between the top of the bar or counter and the bar stool seat high. This isn't a rigid rule so if you find a counter stool that you love which provides 10" of clearance, this should work just fine.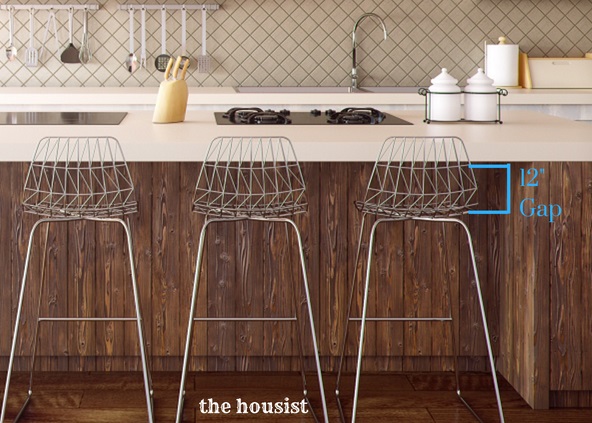 If your counters are bar height (typically 41" – 43") you should be looking at bar stools with a height of 29" – 32". Counters are typically 35" – 40"; if you're looking for a counter height stool you should be looking at counter stools that are in the 23" – 28" range. Kitchen islands are usually around 36" tall which means that you should be looking for bar stools around 24" high. If you have extra tall 48" counter tops, look for counter stools around 36" tall. For more details on this, you can check out our detailed guide on bar stool height.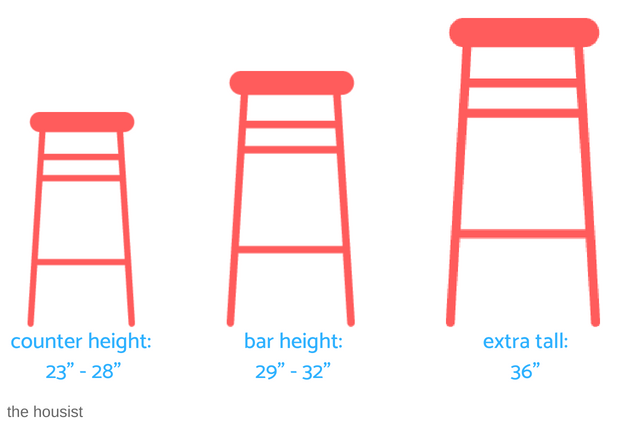 How Many Bar Stools Do you Need? How to Space Bar Stools
The next decision we'll tackle in our bar stool buying guide is how to figure out how many bar stools you should get. This is determined by two things:
How much linear space you have
Bar stool spacing rules
Start by getting out a tape measure and figuring out how much space you're working with.
Typically when spacing bar stools, you will want a minimum of 6" between the base of each stool. You can go tighter than this, but people may feel cramped when sitting on their stools. If you happen to have extra large bar stools, with seats in the 18"+ ballpark, you should consider spacing your bar stools even more – give them 8" – 10" of space between bar stools.
Second, you should leave about 3" between the base of your stool and any sidewall.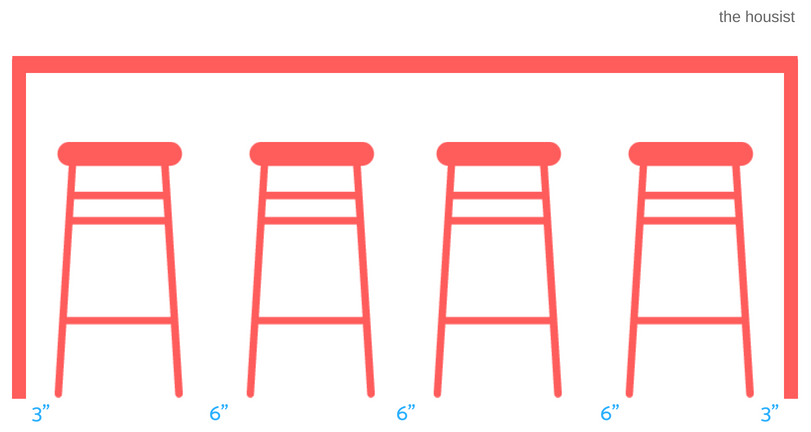 What Bar Stool Seating Style Should You Get?
Now that you've got your height and number of stools figured out, let's take a look at bar stool seating style you should get. There is no best bar stool seating style, it's all about what you prefer and what is functional for your space. There are 4 main types of seating styles:
Backless
Low back
Full back
Arms / Swivel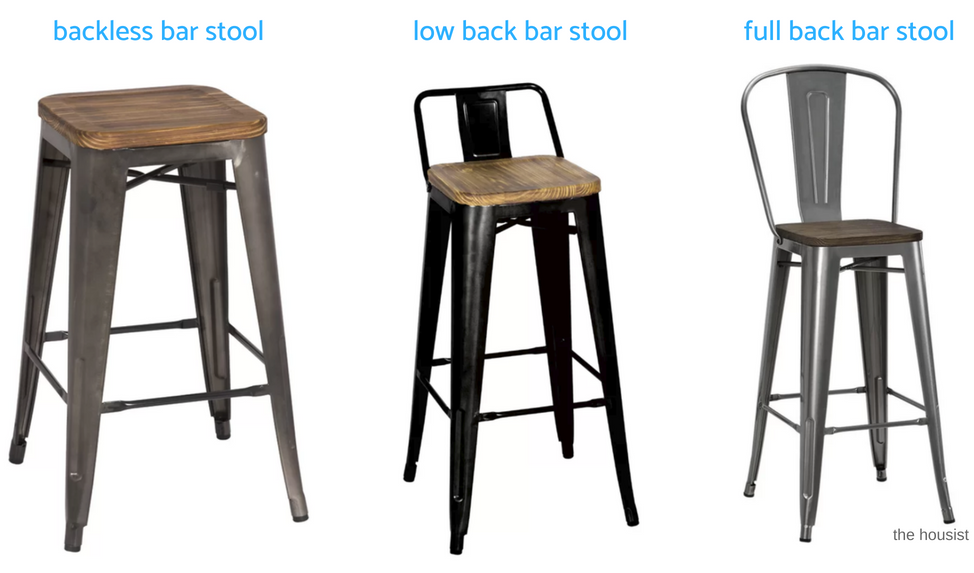 Backless bar stools tend to fit the best under a counter, but can be uncomfortable after long periods of time.
Low back bar stools and bar stools with a mid height are trendy and modern offering more support than a backless bar stool.
Full back bar stools are going to be your most comfortable option and are similar to regular dining chairs but these also tend to take up the most amount of space.
Arm / swivel bar stools can be found with backless, low back, or full back options and swivel to let the sitter in and out of the chair more easily.
What Style Bar Stool Should You Get?
As with tables and regular dining chairs, there is a huge range of bar stool styles. It is important to find a style that fits with your home and your personal style so that they fit well in your home. If you have a rustic or farmhouse style in your home, consider wood bar stools. Contemporary and modern bar stools tend to be made primarily of metal and plastic. While there is no one right style, it is important to get the right bar stools as they will make a cohesive addition to your home.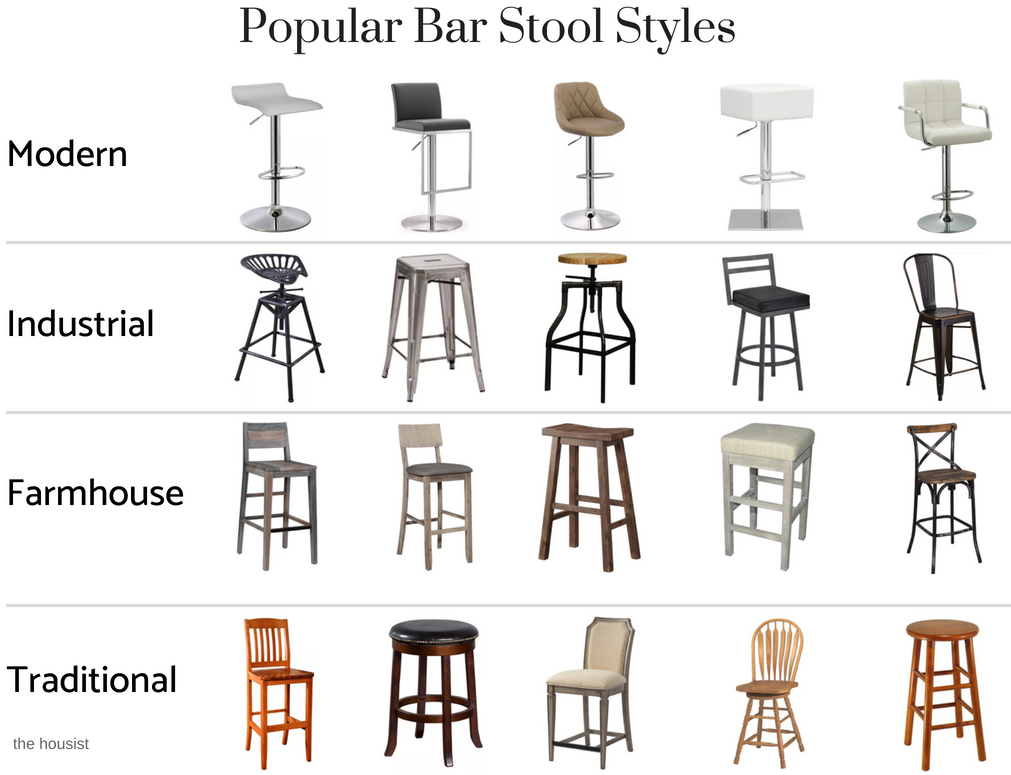 Like this post? Pin it!