Usually a table lamp and shade are sold together and no one gives a second thought about it. All the focus is on the lamp base, but hardly ever the shade!
A lampshade has an equal effect as a lamp base on changing the room. Changing the shade on a lamp can take it from traditional to modern or from ho-hum to lovely. Read on to find out how to pick a lampshade the right size and shape as well as how to make it fit on the lamp base and fulfill the purpose of the lamp.
How to measure a Lampshade
Lampshades are measured by the top, bottom and slant of the shade. If you are buying a replacement lampshade, these are the measurements (in inches) you'll need.
First measure directly across the center of the top of the shade. Obviously, this is your top measurement. Next, measure a lampshade directly across the bottom of the center. Lastly, measure the slant. This is the measurement from the top to bottom of the lampshade. Easy for a non curved shade, but for a bell shade, you might have a few questions. Note that this is not the height of the shade from top to bottom. Take a look at the image below to measure the slant.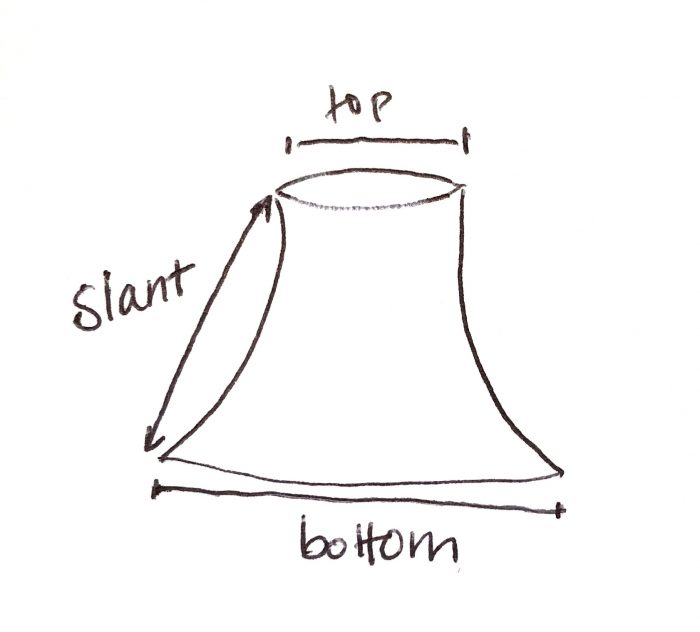 Size
The general rule of thumb is that the lamp base should be between 60-75% of the height while the lampshade is the remaining 25-40%. If you want a taller, elegant look, pick a shade that is about 25% of the total height.
Proportional height is most important when choosing a shade. If it's too tall, then the lamp will look top-heavy. If the shade isn't tall enough, then it will look out of balance. You can always buy a few different sizes and return the ones that don't work. If you find a shade you love that looks great, but doesn't cover the hardware, a different sized harp will do the trick. This is most important with lamps at eye level. The shade should reach the stem of the lamp so that no mechanical parts show.
Width-wise, a lampshade needs to be twice as wide as the lamp base. Measure at the widest part of the base and multiply by two. The shade should be at least a half-inch wider on either side of the widest part of base.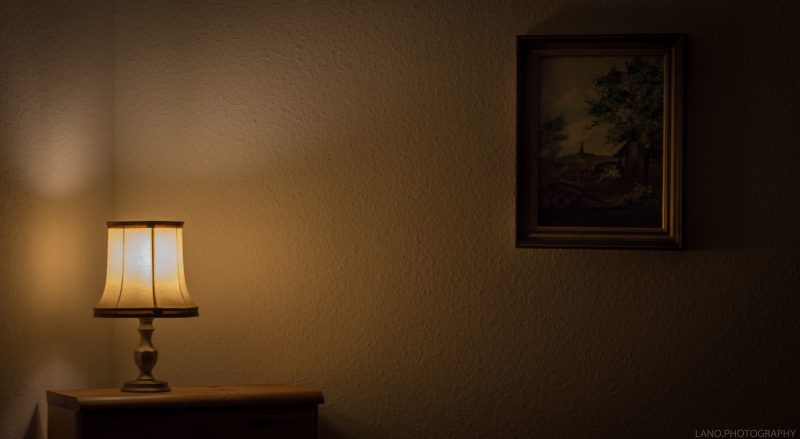 Lastly, the problem with large lampshades is that they can get in the way of traffic areas. If the lamp is in a busy hallways, be sure that it won't be knocked or brushed by often. Also consider the table surface. Most often, you want the lamp to fit in the middle or towards the rear of a console or table. If the shade is too big and against a wall, that might present an issue and make the lamp placement look awkward. Square or rectangular lampshades are advantageous in these situations.
Shape
If your lamp base is round, pick a round lampshade.
If your lamp base is square, pick a square shade.
A lamp base with straight edges should have a lampshade with straight edges, even if angled.
A lamp base with curves will benefit from a curved lampshade.
A bottom heavy lamp may look lighter with a cone shaped shade.
If you want a traditional look, choose a lampshade with pleats.
If your home leans modern, choose a smooth lampshade.
Fluted shades lean elegant and refined.
Exceptions:
A bell shade is adaptable to many decor types.
A candlestick lamp can hold almost any type of lampshade.
These are the types of lampshade shapes:
Empire
Straight Empire
Drum
Square
Oval
Bell
Coolie
Hexagon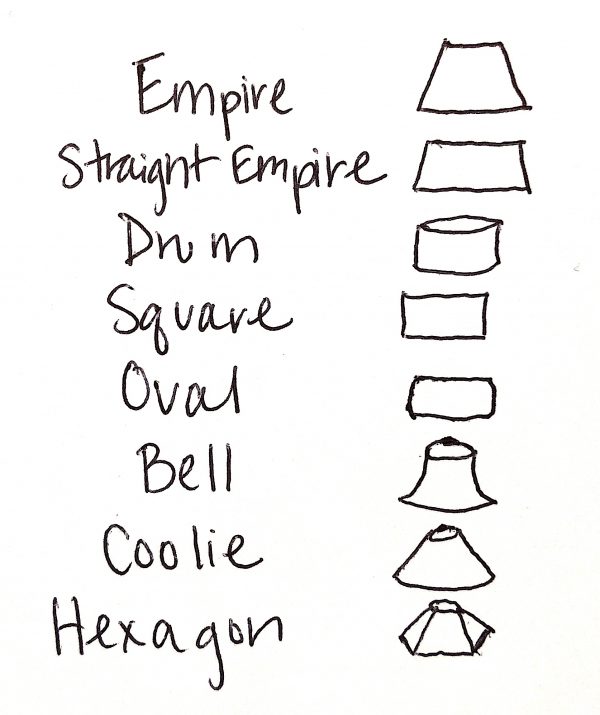 Fitter
The fitter is how your lampshade connects to your lamp. This is important, because crossing fitter types may not work.
A spider fitter has a small hole and sits on top of a harp. It is held in place by a finial that screws on.
Slip uno fitters are placed on the lamp before you screw in the bulb. It fits around the base of where the bulb is screwed in and is held in place by the bulb itself.
Clip on fitters are found on small chandelier lampshades.
Light
Lastly, considering the purpose of the lamp is important in choosing the shade.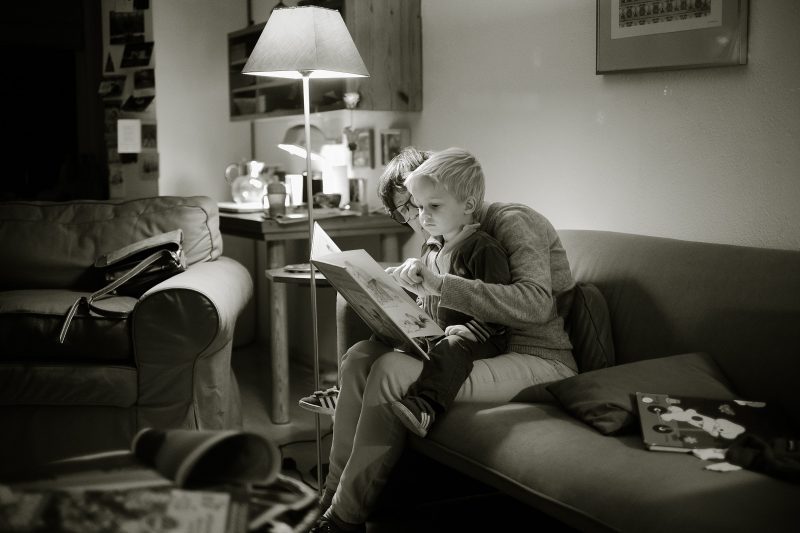 Is it to provide light for reading? A light colored translucent shade will allow light to come through, providing more light. A cone shade with a wide base will direct the most amount of light downward.
Is it to make a statement? Black lampshades are very popular and make a huge statement on the room. However they result in directing light upwards and downwards, which is fine if it's purpose is to make an impact or direct light, not light up your room.
Do you want to highlight an object or set a mood? An opaque lampshade of parchment or silk will achieve that goal.
Do you need more ambient lighting? Choose a light colored shade of sheer fabric or paper to let the lamp provide more light to the rest of the room.
Lampshades don't typically cost much and range from $20 to $50 depending on the type, brand, or extra details.
Floor Lamp Shades
Floor lamp shades follow rules similar to table lamps, but you'll want to be sure that the bulb doesn't blind you when seated. The bottom measurement of a floor lamp shade should be 16 to 18 inches or larger.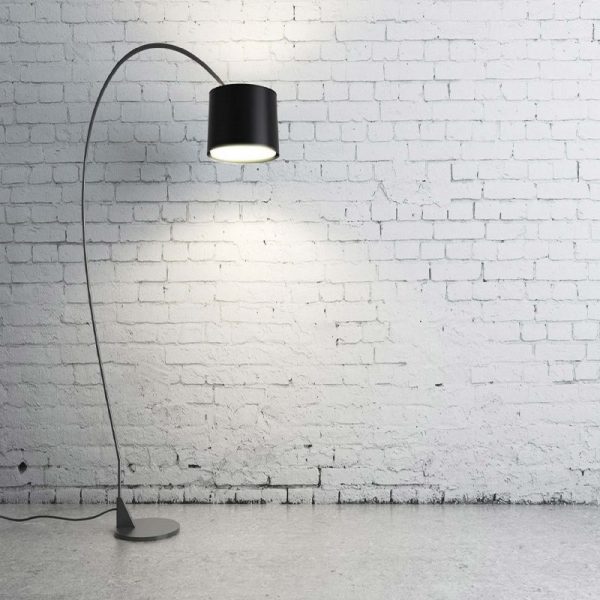 Safety
I'd be remiss if I didn't mention the most important part of all when choosing a lampshade. How can a lampshade be unsafe?
Light bulbs, especially basic incandescents and halogens, get really warm. If the lampshade is too close to the lightbulb, it will most certainly melt the shade and could potentially catch on fire. Some even start to brown on the inside after use if they are too close to the bulb. See below for how far away from a bulb, the shade needs to be.
Medium Bulbs
| Wattage | Spacing Required |
| --- | --- |
| 0-25 watts | 1.5 inches |
| 25-40 watts | 2 inches |
| 40-60 watts | 2.5 inches |
| 75-100 watts | 3 inches |
| 150 watts | 4 inches |
Candelabra Bulbs
| Wattage | Spacing Required |
| --- | --- |
| 0-25 watts | 1 ⅝ inches |
| 25-40 watts | 2 inches |
| 41-60 watts | 2.5 inches |
Additionally, never place items on top the lampshade. The open space is needed for venting and placing items over it can cause the shade to overheat or catch fire. Never exceed the wattage listed for the lamp base.
To avoid this issue completely, choose an LED bulb.
Header image is a coolie shade.