Having a ceiling fan for your bedroom is a wonderful luxury, especially for those who love to sleep in a cool room. And choosing the right size ceiling fan will ensure that you won't feel like you're in a wind tunnel, or on the other end of the spectrum, actually feel the breeze.
There are three steps to choosing the perfect ceiling fan: blade size, ceiling height, and downrod length.
What size ceiling fan?
Choosing the size of the ceiling fan depends on the square footage of your room. Most recommendations stem from guidelines set 20 years ago, so this isn't the rule.
Rooms up to 75 square feet = 29-36 inch
Rooms 76-144 square feet = 36-42 inch
Rooms 144-225 square feet = 44 inch
Rooms 225-400 square feet = 50-54 inch
Ceiling fan for a large bedroom
There's also a trend to purchase a statement ceiling fan – something large that draws your attention upward. One reason for this is that you feel the breeze from a fan when you are directly under it and about two feet outside of the blades. Thus the direct airflow is inside a small area if you have a small fan.
This isn't usually a problem if your bed is right under the fan, but it might be with a room that is deeper than it is wide. If the fan is far from your bed, it's totally possible you won't feel the breeze!
Whether a ceiling fan looks too large is a personal preference matter, so browse some design inspiration before committing. Just be sure there is at least two feet from the fan blades and the nearest wall.
Right above bed, looks great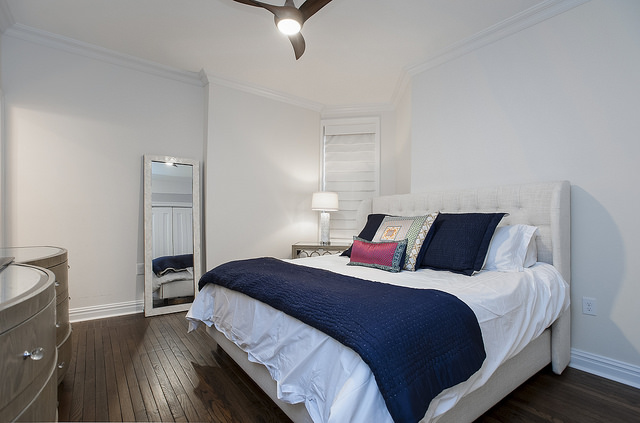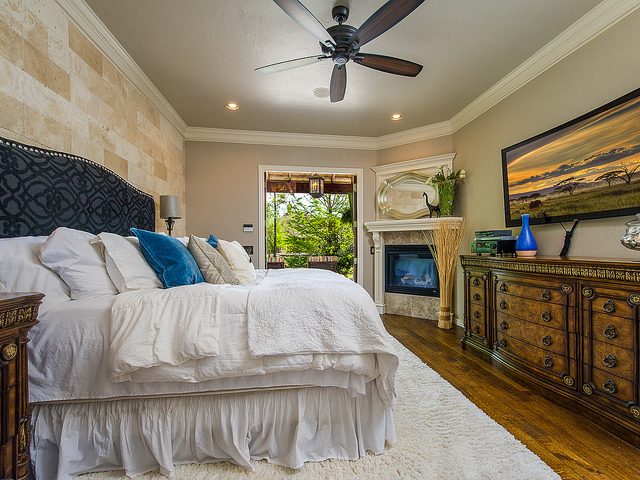 This ceiling fan is in the middle of the room and you won't feel the breeze when in bed.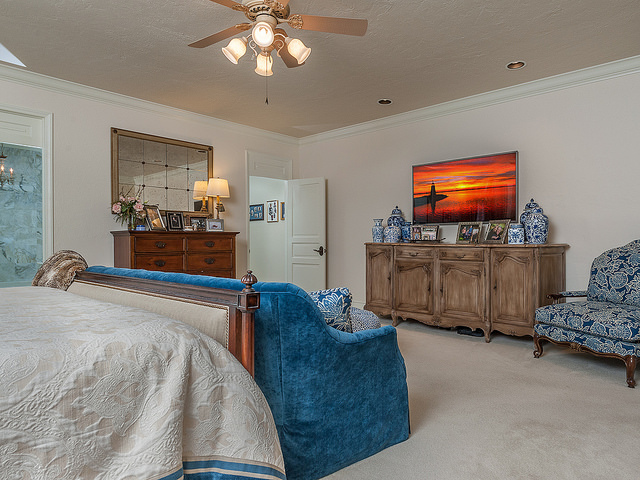 This ceiling fan looks too high and could use a downrod.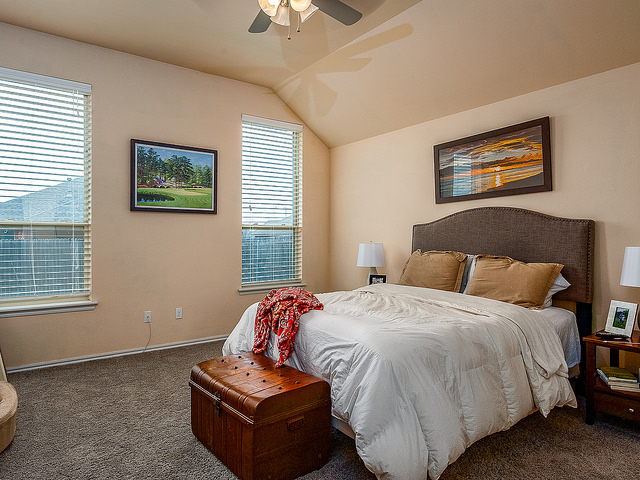 Large ceiling fans usually spin slower and have a slower wind speed, so don't think that you'll get blown away. Many also have adjustable settings. While they might have a high CFM, that is only a measure of air displacement, not the breeze you'll feel sitting under it.
Instead of one large fan, you could also purchase two smaller fans for a large room.
How high do I hang a ceiling fan in my bedroom?
Hang your ceiling fan too low and you might hit your head. Hang your ceiling fan too high and you won't feel the breeze from it. Building code requires your ceiling fan to be seven feet minimum from the blades to the floor.
If you have the standard eight foot ceilings, a hugger fan or low profile fan is probably what you want to use. The fan is likely to be right over your bed, so hitting your head on it is less of an issue.
Ceilings higher than nine feet require a downrod. If you have very high ceilings, you might not want a long downrod visually taking up so much space and choose to hang the ceiling fan higher. In that case, average that you will lose about 10% in performance for every foot the ceiling fan is above 84 inches.
The chart below is a suggestion for optimal ceiling fan height.
| Ceiling Height | Suggested Downrod Size |
| --- | --- |
| 9 feet | 6 inch |
| 10 feet | 12 inch |
| 12 feet | 24 inch |
| 14 feet | 36 inch |
My ceiling is angled!
Angled ceilings are no problem! The ceiling fan would be hung on a ball hanger system that allows the base to be on the angled ceiling and the downrod to fall directly down. A small bit of math is required to ensure that the fan is hung low enough to clear the pitch of the ceiling.

Now let's look at some ceiling fans!