Bed sizes are standard in each country and differ depending on where you're at. In the United States, the common bed sizes are crib, twin, twin XL, full or double, queen, king, and california king. All mattresses, beds and platforms are manufactured according to these standard sizes.
If you've had trouble sleeping lately, it may be time to rethink your mattress or the size of your bed. Most couples don't know that sharing a full size or double bed only leaves them with 27 inches of personal sleeping size – which is the same width as a crib mattress. A queen size bed shared by a couple leaves you less personal width than sleeping alone in a twin bed.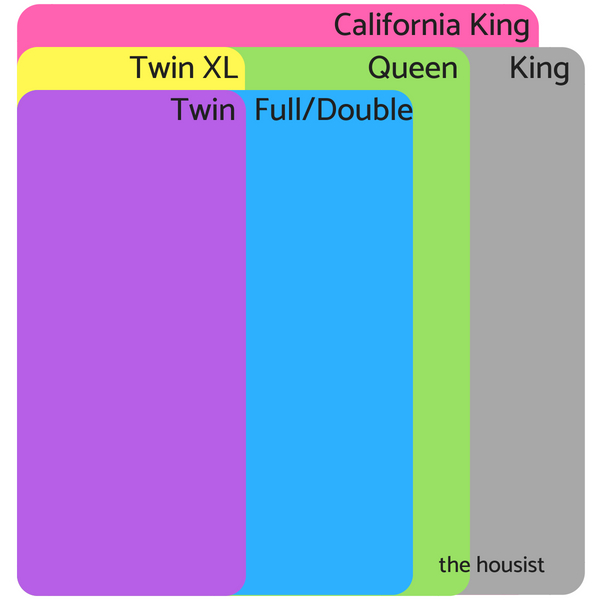 California King
72″ x 84″
You might be surprised to learn that a California King is not biggest bed overall, it is actually just longer than a regular king size bed. Instead of being four inches wider, it's four inches longer. This is great for tall people and those who prefer more length than more width. Both a California king and regular king can accommodate a pet or child easily.
Most adjustable beds are california king size and are usually split so that each person can move the bed to their liking.
King or Eastern King
76″ x 80″
Sharing a king size bed allows a couple the same personal space as a twin bed. In fact, many people use two twin XL mattresses for their bed, also known as a split king. It gives each person the most amount of sleeping space possible. Not likely you'll feel your partner tossing and turning! It's best for large rooms and the box spring comes in two twin XL sizes for navigating stairways.
This bed size is great for active sleepers and those who just want a little more space.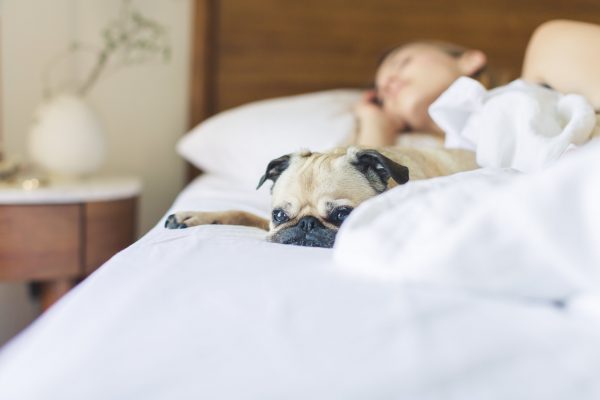 Queen
60″x 80″
A queen is the most popular bed size all around – for couples and single sleepers. It fits well in small bedrooms and still affords each individual a comfortable amount of sleeping space. It's the preferred guest bed size since it's more comfortable than a full/double. There isn't much space for a child or pet to sleep with you, but some people seem to make it work! If you're a light sleeper, a queen might be too small for you with an active sleeper of a partner or child that co-sleeps often.
A queen size bed uses two standard size pillows.
Full or Double
54″ x 75″
Fun fact: before queen and king beds existed, most couples slept on full size beds. Nice and cozy! Couples with an active sleeper who moves a lot might find this bed too small.
Full or double beds are a great choice for a guest room or kids and teenagers. The bed may be too short for some people, but grows well for kids, leaving you lots of room to sit in bed with them during story time.
It's common to find two double beds in hotel rooms. Full size beds are also the normal futon size or hide-a-way bed.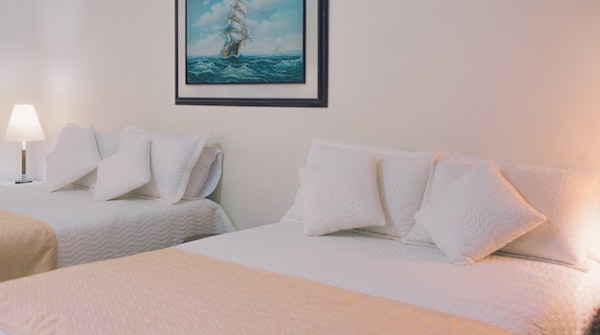 Twin XL
38″ x 80″
Most college dorms carry twin XL beds. It's a great size for single sleepers that need the extra length and will also grow well with kids. Twin beds don't take up much space and work great for single sleepers in a small room.
Twin
38″ x 75″
Twin size beds are used for bunk beds, day beds, or trundle beds. They are great for kids that have outgrown the toddler bed, but might be too small for tall adults. Twin beds certainly fit well in small bedrooms and are great for non-permanent living situations (think college). Many parents place two twin beds in kids rooms, which leave plenty of room for playing.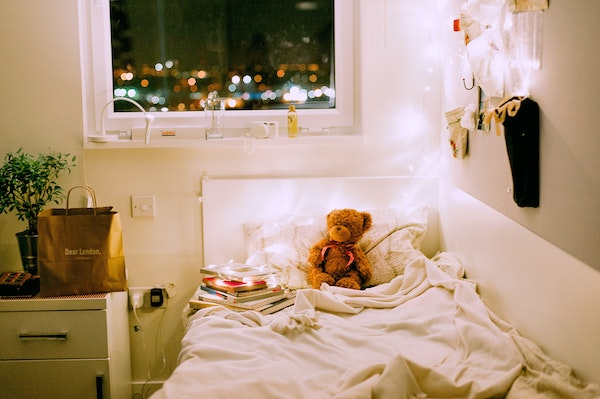 Crib
28 5/8″ x 52 5/8″
One of the most regulated industries, anything regarding children is strictly manufactured according to safety standards and specifications. Crib mattresses must be firm and not more than six inches thick. Sizing is important so that babies can't get wedged between a mattress or the side of the crib. While different manufacturer's have slightly different sizes, as well as crib manufacturers, the most important part is that it fits snugly in the crib. Breathable mattresses are becoming more popular, also related to the six inch thickness rule. Taller mattresses also make it easier for a toddler to climb out of the crib.
Toddler beds are sized for crib mattresses, and there's less overall worry about the mattress and sleeping once children grow in to toddler-hood.
Box spring size
Box springs are the sizes outlined above and either the typical nine inches thick or the new low profile version of 5-6 inches thick. Not sure whether you want the standard box spring or low profile box spring? Look at the height of your bed and thickness of your mattress to decide.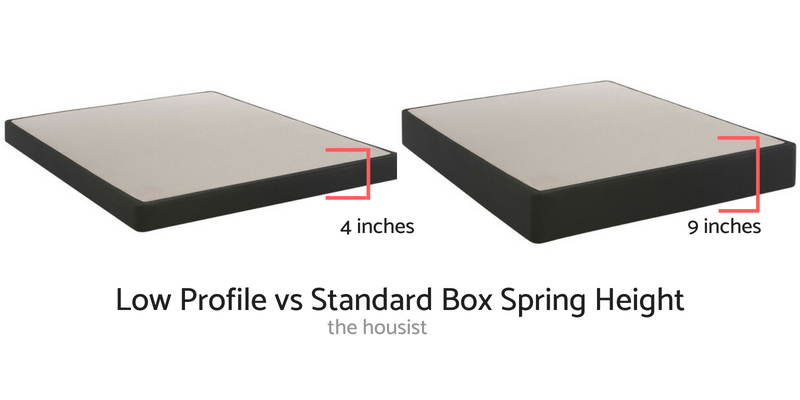 New low bed styles may require that you get a low profile box spring. There are also many platform beds that don't require a box spring at all. Some beds may be too high to get on and off comfortably, which is why you may want a low profile box spring.
Mattress thickness
This measurement is highly variable, since there is no set standard like the bed sizes discussed above. Mattress thickness can range from 9 inches thick to 16 for a plush pillowtop.
Note that pillow top mattresses break down after a few years and don't last as long as standard mattresses. The memory foam and padding don't stay plush forever, and can hollow out, creating sleeping indentations. This isn't comfortable and doesn't allow you sleeping movement since you're confined to your hole. If you like the feel of a cushy pillow top, consider buying a mattress topper and replacing it every few years. This (along with a waterproof mattress cover) will get you maximum life out of your mattress.