Duvets are well known for their warm and fluffy characteristics, making them a great choice to keep you cozy at night. Since duvet covers come in a wide variety of styles, you can easily keep your bed styled with the latest trends. Duvets come with a huge variety in features, characteristics and styles and can last 10 – 20 years if you buy a high quality duvet. We've got the tips you need to help you figure out how to buy a duvet comforter so that you can sleep well.
Duvet vs Duvet Comforter vs Duvet Cover
Let's start with the basics. People often throw around the terms "duvet", "duvet comforter", and "duvet comforter", but what does this refer to? We'll break it down:
A duvet comforter is filled with down or synthetic insulation. Typically these are a white or beige color and don't have patterns. Duvet comforters are also often referred to as simply "duvets", though the term can be applied to the comforter / cover combination.
A duvet cover is a protective cover that goes around your duvet comforter to keep it protected from oils, dust, and dirt. It is like a pillowcase for your duvet comforter. Typically a duvet cover is sewn closed at one end and has buttons at the other, allowing you to take the duvet comforter in and out. Duvet covers can easily be changed out to update the style and look of your bed.
Duvet Size
As with other comforters and bedding, duvets come in standard bed sizes – king, queen, full/double, and twin. As duvet's tend to have less overhang on the side of a bed, many people prefer to order duvets a size larger than their actual bed size. Going big on the duvet size also helps if you tend to fight over who has the most covers in the middle of the night.
Duvet Thread Count
Duvets typically use a cotton shell (also referred to as "ticking") to contain the down or synthetic insulation. While you can find duvet shells in other materials such as silk, cotton is the easiest material to take care of and maintain. The thread count of the duvet itself can often be indicative of the quality of the duvet and measures the number of threads in a square inch.
When looking at duvet thread counts, you will want to look for higher thread counts. The higher thread count is denser and helps keep your insulation inside your duvet. Additionally, cotton with higher thread counts will be softer than less dense cotton, making your duvet more comfortable.
How high of a thread count should your duvet have? 300 is a good target. You likely won't notice a difference in duvets above the 300 thread count mark since the duvet will be in a cover so don't worry about going above 300.
What is a Tog Rating?
To understand how warm a duvet is you can review the tog rating. The tog rating is a measure of how well a duvet is able to insulate you by trapping warm air on a 1 to 15 point scale. When looking at tog ratings, 1 will be the coolest and 15 will be the warmest.
Typically you will want a duvet with a tog rating of 1-7 for the summer months and a rating of at least 12 for the winter months.
If you're not looking to buy multiple duvets, then you should look for a tog rating in the 9-10 range to provide enough winter warmth without overheating you in the warmer months. Alternatively you can look into "all season duvets" which are a actually a 2 duvet set. The duvets in an all season duvet set typically have tog ratings of around 9 and around 4. They can be tied together to create a tog rating of around 13 for the winter and you can switch between the other two duvets depending upon the season.
| TOG Rating | Typical Usage / Season |
| --- | --- |
| 1 - 7 | Summer |
| 8 - 11 | Fall - Spring |
| 12+ | Winter |

Types of duvet fills
Most duvets are filled with down or synthetic down. Down is lightweight and has great insulation which is why it has been a popular bedding choice for so long.
Down feathers (used in duvets) typically come from ducks or geese. These down feathers do a great job keeping geese and ducks warm in freezing temperatures during the winter proving they are one of nature's best insulators. Goose down is fluffier so it is used in most high quality duvets. Duck down, while not as fluffy as goose down, is still very warm and tends to be used in cheaper duvets. Canadian, Swedish, and Hungarian down are often sought after as down from these colder climates offers excellent insulation and warmth.
If you are concerned with the potential allergies associated with down, make sure to look for a duvet with cleaned and sterilized down. This process removes most of the potential allergens from down reducing the risk of impacting allergies.
When you're buying a down duvet comforter, it important to look at the percentage of down being used in the comforter. In order to cut costs and market cheaper duvets, some companies are selling "down duvets" that contain only 30% down feathers mixed with other insulators. Make sure to look for "100% down", "all down", or "pure down" when you're buying a duvet. This will make sure that you get a great quality duvet that will last and will provide great insulation.
Down Alternatives
The most common synthetic down alternative is polyester – which has as similar feel to down. Wool and cotton fill are also available down alternatives. People who are highly allergic to feathers should choose a duvet that contains a down alternative instead of goose or duck down – though they don't tend to be as fluffy as synthetic down alternatives.
One advantage of down alternatives is that they are hypoallergenic so there is no concern over allergies. Additionally synthetic, cotton, and wool fills are less expensive than down comforters making them a good option for shoppers on a budget who want a duvet but don't want to spring for a 100% down duvet. There are two major drawbacks of down alternatives – they are heavier than a down duvet fill and they are usually less breathable than down.
Duvet Fill Power
Let's start first with "what is duvet fill power?" Duvet fill power is a rating for how fluffy and insulating a duvet is. A higher number means that the duvet fill will be thicker and more insulating than a duvet with a low fill power number. With higher fill power duvets, they will have larger "clusters" which will trap more air providing better insulation and heat retention.
You should be able to find the fill power listed on the duvet's packaging in a store or in the product details on a website. Generally the higher quality the down, the higher the fill power.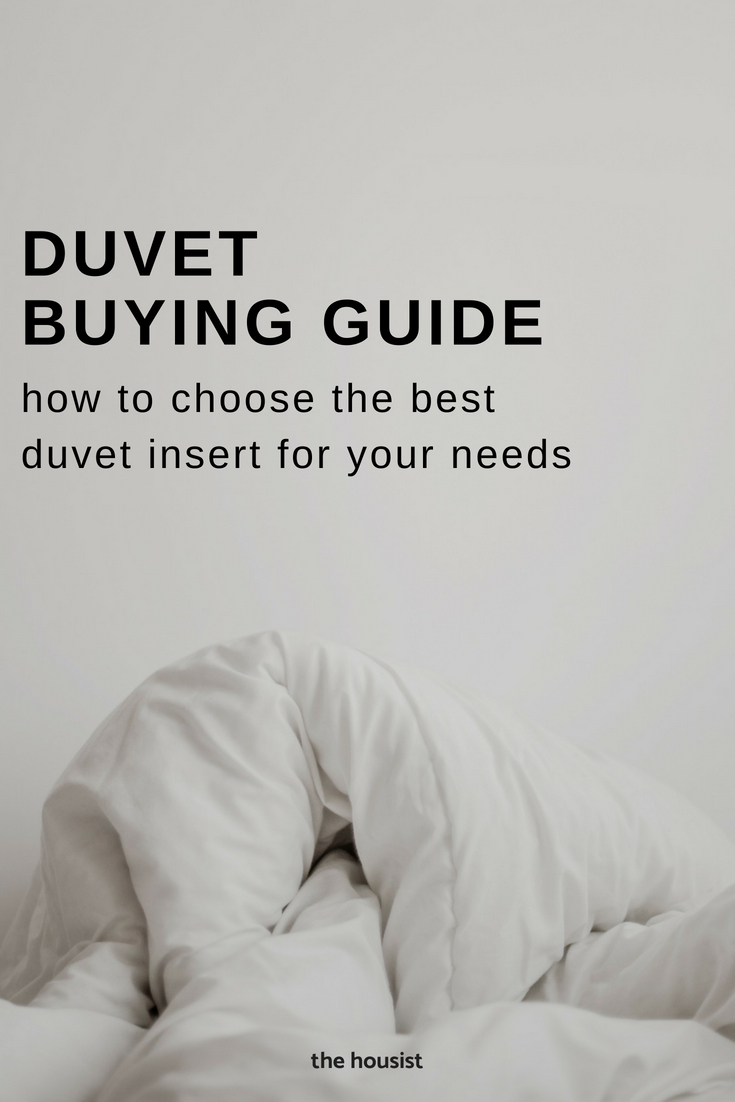 Overview of Duvet Fill Powers
| Duvet Fill Power | Typical Usage |
| --- | --- |
| 400 or below | Lightweight / summer usage |
| 400 - 600 | All season |
| 600 - 800 | Cold weather / winter usage |
| Above 800 | Extremely cold weather / people who need to be really warm |
Stitching & Construction
The details of how a duvet is made is crucial for the quality and longevity of a duvet. If a duvet does not have "construction" (or stitching that holds the fill in place), the duvet fill will likely shift around and create lumps and pockets rather than being evenly spread through the duvet comforter. There are several different types of construction that are common in duvets.
Channel – duvets that have seems running the length of the duvet are referred to as channel construction. These channels restrict the movement of the down fill to a single plane. This can be good if you prefer one section of your duvet to be warmer than another.

Quilt stitching – Cheaper duvets featuring a quilted checker stitching pattern simply stitch the fill in place. While this prevents the fill from spreading, it also prevents the fill from achieving maximum loft. Generally this is ok for lower fill power duvets.

Baffle box – Duvets featuring baffle boxes construction have vertical walls within each "chamber" or checkered section of the duvet to prevent the filling from moving while allowing maximum loft (fluffiness). These are typically higher quality construction and found on nicer duvets.

Gusset – Walls around the sides of a duvet are referred to as gussets. These give the duvet more height and allow for more loft. They are typically found on the duvets with baffle boxes and tend to be more expensive.