Laminate flooring is an engineered material designed to look like hardwood flooring. It's popularity has increased significantly since it's a low cost alternative to traditional wood flooring. It's also an easy project for confident DIY'ers, since it comes in floating plank form that clicks together and doesn't require specialized tools or glue.
Laminate flooring mimics the warmth of hardwood flooring at a much lower price point. Recent years have brought a plethora of options and many brands now have textured products that replicate the appearance of high-end hand scraped wood floors.
Appearance
Laminate flooring looks like real wood. In past years, laminate was a cheap effort at best but that's not the case anymore. Many brands have really uppped their game, producing incredibly authentic looking products that mimic the look of real wood. In general, every 5-10 boards look different, mimicking the uniqueness of wood grain.
The feel underfoot of hardwood floors is hard to replicate, though many brands are making great strides at improving the feeling underfoot.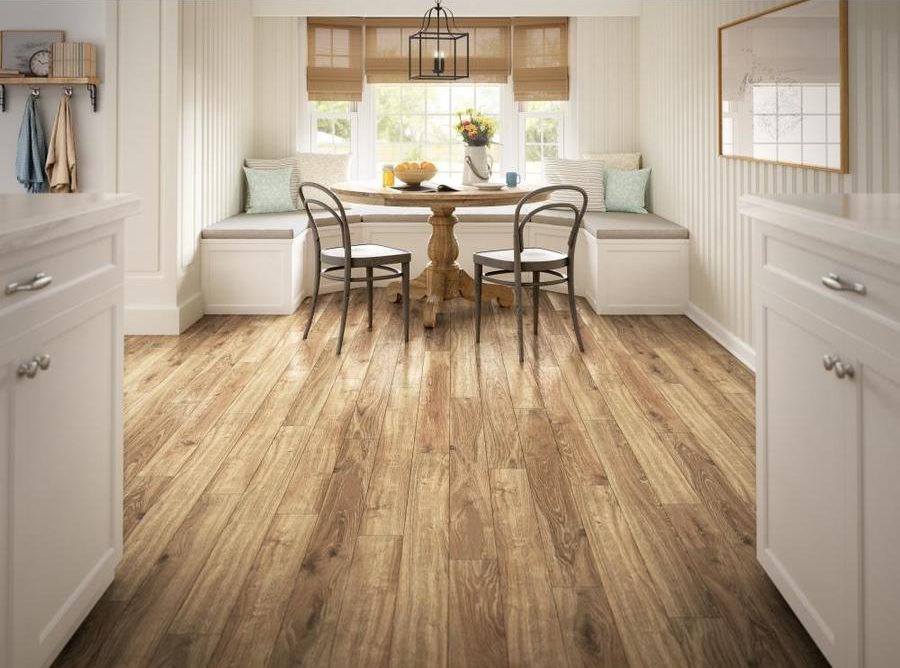 Price
Hardwood flooring costs depend on the species of tree that you use. There is definitely variability, though most products fall between $8-10 per square foot.
At an average, laminate flooring costs between $2-8 per square foot. Installation costs are also 50% less than hardwood flooring.
Durability
The durability of any flooring depends on the amount of foot traffic it gets. Laminate floors are rated for different usage levels using an abrasion criteria system. The higher the "AC" score, the longer your laminate flooring will last. The rating tests the flooring's resistance to impact, effects of furniture legs, stains, swelling along the edges and cigarette burns. The ratings span from residential moderate traffic (think bedroom) to commercial (approved for use in department stores with heavy foot traffic).
That doesn't mean you need to purchase commercial rated flooring for your single family home in order for it to be durable. An AC rating of 3 is perfectly adequate for a single family home. Flooring rated for high commercial use might be too hard for your home or rough on bare feet. If a flooring does not have an AC rating, it probably means that it didn't pass the tests – so obviously don't buy it.
In terms of wear, many laminates wear better than wood flooring when it comes to kids and pets. Laminate is very resistant to scratches, unlike regular hardwood floors. Laminate is also stain resistant, due to the heavy duty clear coating on top of each plank.
Laminate flooring is also available in different thicknesses. Seven, 8, 10, and 12 millimiter thicknesses are available. All laminate has the same dent resistance, but thicker laminate will reduce noise and less likely to bend in uneven areas of your home.
Maintenance
Laminate flooring is easy to maintain. Regular sweeping, spot cleaning and dry mopping is all that it requires to stay maintained. Wipe up spilled water immediately – letting it sit and seep between the planks can cause permanent water damage.
Regular wood floors require special hardwood cleaners that won't damage the finish.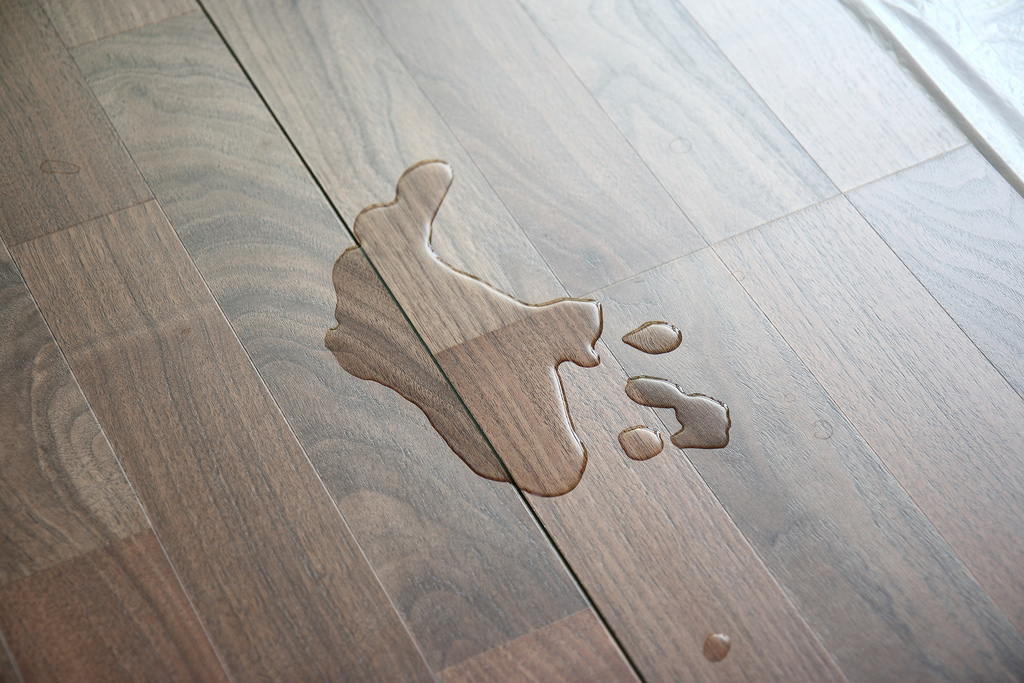 Repair
The downside of laminate flooring is that repair isn't easy. Unlike wood floors that can be sanded down and restained, laminate flooring planks must be replaced if there is damage. This could be as simple as unlocking the click-together planks in the room to reach the damage. If laminate planks are glued down, then repair becomes much more difficult.
If the flooring has been installed for a while, you risk having a plank that does not match the rest of your flooring. Sunlight and wear can lighten the floors.
Water damage seems to be the most common issue with laminate floors. For this reason, it's not recommended to install laminate in areas with high humidity and possibility of water seeping between the joints. Once water causes the tongue and groove portion of the plank to swell, it will not go back to it's normal form when dry. This is why it's important to always wipe up spills immediately. Water damaged laminate floors may warp or swell. When walking on it, it will feel like the floor has risen off the ground and there is peaking or hills at the joints.
Laminate Flooring Installation
Laminate is a floating floor, which means that it is not secured down. The planks are joined together through a tongue and groove fold and lock motion, resting on top of a foam underlayment that reduces the hardness of the floor and protects against moisture. A gap of about a half inch is left between the flooring and the wall. This allows the floor to expand and contract with temperature and humidity changes. Baseboard can then be added on top of the floor to hide the gap as well as keep the flooring in place.
Laminate flooring can be installed on top of other flooring materials, such as tile, vinyl or plywood.
The flooring has a maximum amount of length and width that it can be installed. At the maximum, a bridge must be installed. The manufacturer should denote this on the packaging. If instructions are not heeded, it's possible that the flooring could swell or warp.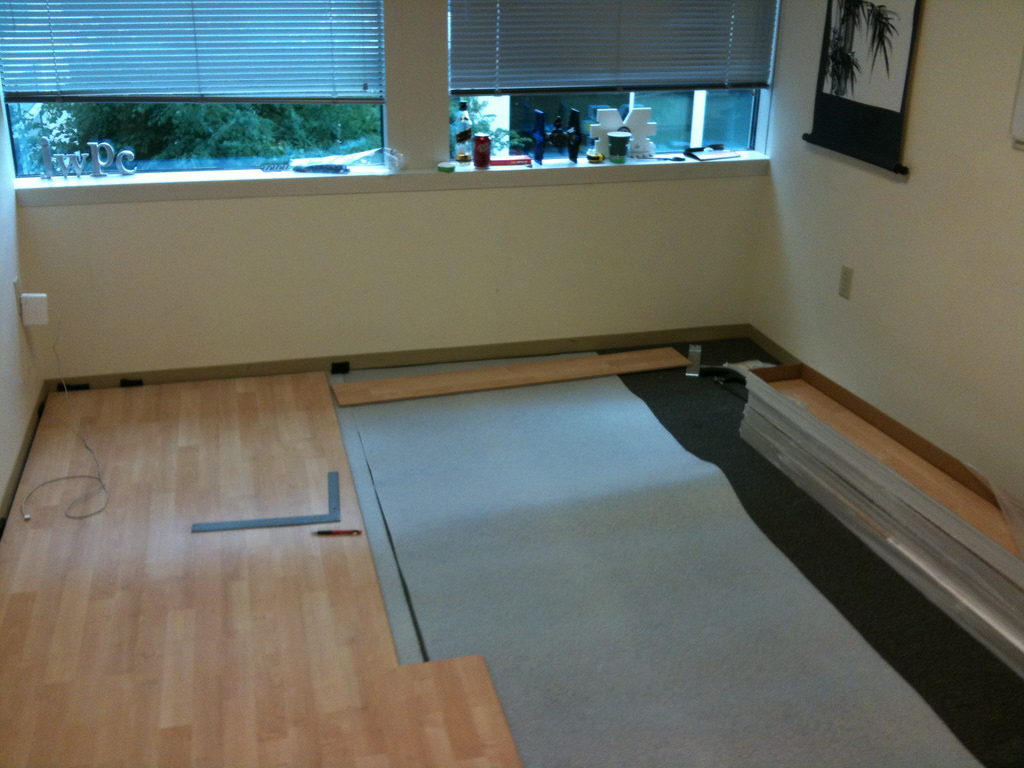 What is Laminate Flooring Made of?
Bottom Layer: The bottom layer of laminate flooring is a waterproof backer paper. This prevents the flooring from picking up moisture and compromising dimensional stability. Some models also have additional foam padding that eliminates the need for an underlayment.
Core Layer: This half inch layer is made of fine softwood chips that are bound together by heat, pressure, and resin to form a high density fiberboard. This layer is most susceptible to water damage but protects the floor from indentations.
Image Layer: This is what gives the wood appearance. The image layer is essentially a high quality photograph of a wood species.
Wear Layer: The top layer is a clear protective coat. It protects against wear and tear like dog nails, high heels, chairs scraping, and toys being thrown. The top coat also shields the decorative image from UV light that could fade the image.
There are a range of finishes from matte to shiny which are a product of the top coat as well.
Is Laminate Flooring for me?
A high quality laminate won't detract from the value of your home or look cheap. Shop around at local flooring stores and you'll see that there are strengths that laminate flooring has (resistance to scratching, ease of installation, cost) that real wood flooring can't beat. Even engineered wood flooring will scratch and both traditional wood and engineered are more expensive than laminate.
While wood tile is even more durable than laminate, it is also expensive and has high labor cost to install. It is however impervious to water and can be installed in the bathroom. There are no restrictions when it comes to how long or wide the room is. However wood tile has absolutely no give and will be hard to stand on for long periods.