Planning on remodeling your kitchen? Kitchen cabinet dimensions are pretty standard in the US, which helps make it easy for planning.
Base Cabinet Dimensions
| | |
| --- | --- |
| 34.5 inches | Base Cabinet Height - no countertop |
| 24 inches | Base Cabinet Depth - no countertop |
| 35 - 36 inches | Base Cabinet Height - with countertop |
| 25 - 26 inches | Base Cabinet Depth - with countertop |
| 12", 18", 24", 30", 33", 36", or 48" | Base Cabinet Width |
| 3 inches | Base Cabinet Toe Kick Depth |
| 3 - 4.5 inches | Base Cabinet Toe Kick Height |
Kitchen Base Cabinets
Base cabinet depth is 24 inches. Note that this is the measurement of the outside of the cabinet, so you'll lose about an inch of space on the inside.
Cabinet makers also make deeper versions that go next to the refrigerator. Unless you get a countertop depth fridge (23 inches deep), your refrigerator will stick out about six inches which is honestly a bit ugly. With some planning, you can choose cabinets up to 36 inches deep that will allow you to use a regular fridge and keep that extra 3-5 cubic feet of fridge storage. This would be best served as a pantry.
However note that once you get past 24 inches, it gets hard to plug in appliances or reach the back. You wouldn't want a significant amount of super deep cabinetry.
Base cabinet height is 34.5 inches at a minimum. This is an important measurement because there are a variety of appliances that must work with your base cabinet height. Your dishwasher would need to fit under your countertop and you want your oven to be level with the top of the counter as well.
You can definitely make your cabinets higher if you wish and this is often done by adjusting the size of the toe kick height. Tall people would be more comfortable with a taller cabinet. This is an easy request for a cabinetmaker. Prefab cabinets would need boards placed under the base to raise it. Ikea cabinets come with adjustable feet that you could raise to the tallest setting.
When you choose your base cabinets, be sure to think about where you want to store all of your kitchen items. No one likes bending over to search for items on bottom shelves, so if drawers will work – choose those!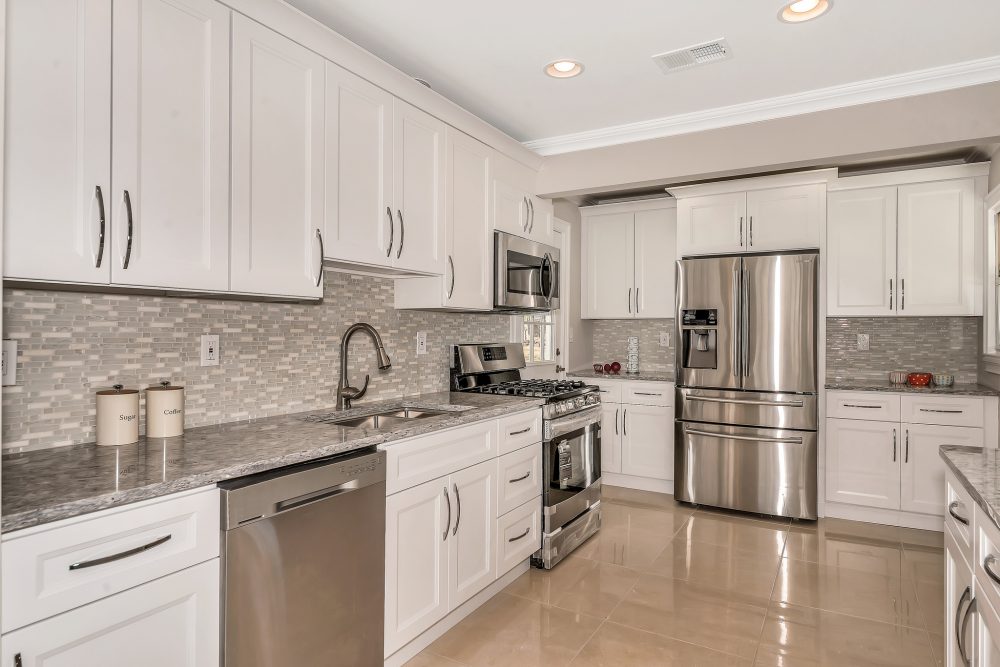 Countertop height is 35-36 inches. This measurement would depend on (duh!) the height of your base cabinets plus the thickness of your countertop. Many stone counters need a plywood underlayment before setting the stone on top. Laminate or Corian do not need that.
Counter thickness typically ranges from ½ inch to 1 1/4 inch depending on your material.
Kitchen base cabinet width is variable. A single basin sink cabinet is 30 inches while a double basin needs to be 36. A double basin offset (one side is smaller) fits in a 33 inch wide cabinet.
Standard cabinet widths are 12″, 18″, 24″, 30″, 33″, 36″, or 48″.
Kitchen cabinet toe kick depth is 3 inches. Kitchen cabinet toe kick height is 3-4.5 inches. The standard toe kick height is 3.5″ but increasing doesn't hurt if you want taller kitchen cabinets.
Kitchen Wall Cabinets
| | |
| --- | --- |
| 12 inches | Wall Cabinet Depth |
| 30", 36", or 42" | Wall Cabinet Height |
| 12", 15", 18", 24", 30", 36" | Wall Cabinet Width |
Kitchen wall cabinet dimensions have a lot of flexibility. Bottom cabinets, ovens, windows, and appliances often determine the top cabinets. The space between the counter and the bottom of the cabinet is also a factor in determining the height of the cabinet, since the space must be 15 inches though 18 is standard.
Wall cabinets are a big part in determining the "look" of your kitchen. There's a trend moving away from wall cabinets and towards open shelving to give your kitchen an airy look. However that means you have to dust and style open shelves, also forfeiting the storage space they provide. In big kitchens this might not be a problem, but not all of us have that much space to give up! Glass doors can help meet this storage need and provide an open feel.
Cabinets can extend up to the ceiling and finish off with crown molding. If you have the budget for it, it gives the room a polished feel. Or you can leave space between the top of the cabinet and the ceiling. In a home with tall ceilings, extending cabinetry to the ceiling might be a big overbearing. It all depends on the look you want. If you choose to vary the height of the cabinets, which is often done around the stove or sink, be sure that there is enough variance for the crown molding.
Kitchen wall cabinets are often 12 inches deep, though there are a lot of options to accommodate style and appliances. For example a coffee cabinet beneath upper cabinets can be deeper.
Tall Kitchen Cabinet Dimensions
| | |
| --- | --- |
| 84", 90", 96" | Tall Cabinet Height |
| 24 inches | Tall Cabinet Depth |
| 30 - 36 inches | Tall Cabinet Width - wall ovens |
Tall Kitchen Cabinets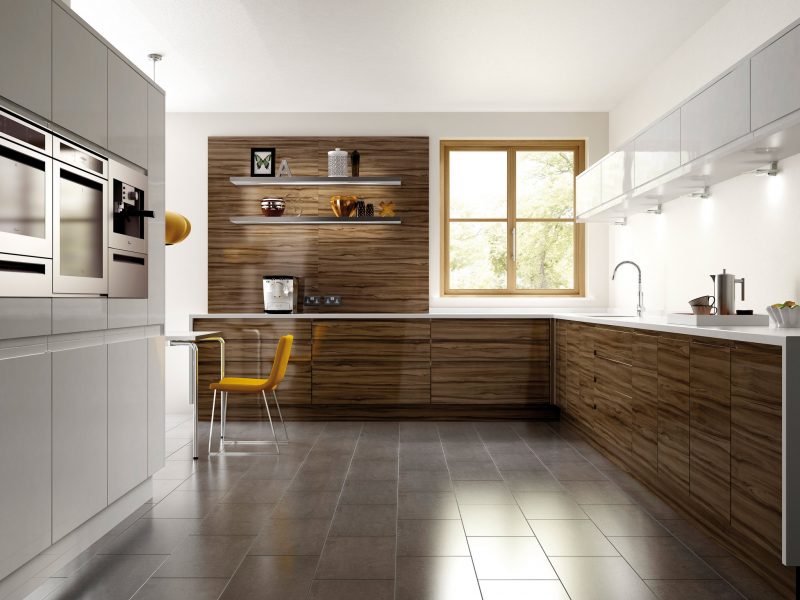 Tall cabinet height varies from 84″, 90″, or 96″ high. Tall cabinets are used for wall ovens, pantry cabinets, as well as other storage options (appliance garage anyone?).
If you need a tall cabinet, then this might be the determinant of the height of the space between your base cabinets and wall cabinets, since you likely want the tops of the wall cabinets to line up with the top of the tall cabinet. Below is a table that matches the tall cabinet you need to the height of the wall cabinets chosen. This is just a suggestion, so draw out your plans to see what's right for you.
| Tall Cabinet Height | Wall Cabinet Height |
| --- | --- |
| 84 | 30 |
| 90 | 36 |
| 96 | 42 |
Tall cabinet width varies. The width for a wall oven is between 30 or 36 inches. Pre-fab cabinets are usually 18 or 24 inches wide for pantry use, though a 12 inch narrow pantry cabinet can give you a lot more space than you realize!
When choosing your tall cabinet for pantry use, think about how you want to organize it. Pull out sliders are helpful so that nothing gets lost. A u-shape shelf also allows you to see everything in the pantry without having to shuffle items around. If you plan to store heavy appliances in the bottom like a stand mixer or electric pressure cooker (Instant pot!) then make sure the shelf height allows for that.
Whether you are choosing pre-fab cabinets, semi-custom, or fully custom cabinets, there are more options than ever before to make your kitchen your own.
Standard Appliance Measurements
| | |
| --- | --- |
| Microwave Cabinet Depth | 15-18 inches |
| Microwave Width | 23 ⅞ - 29 inches |
| Refrigerator Cabinet Depth | 24 inches |
| Refrigerator Width | 30 - 36 inches |
| Dishwasher Width | 24 inches |
| Clearance height for electric cooktop | 30 inches |
| Clearance Height for Gas Cooktop | 36 inches |
| Stove Width | 30 INCHES |