Choosing a new dining table? Many families try to make their evening meal an opportunity for everyone to be together and chat about their day. It's a great place for your loved ones to get together to laugh, play games, do homework, make a craft and of course, share a meal.
Here are the dimensions you need to select one that works for your space and everyday life.
How much room does everyone need?
The hard rule is that you need a width 24 inches for shoulders and about 15 inches depth for plate and glass. Formal seating arrangements require 30 inches width and 18 inches depth. There are more dishes, extra cutlery, candles etc and the extra space is intended to give a more luxurious feeling for the diners.
Most tables have shared space in the center for dishes, candles,wine, or salt and pepper. The minimum depth for shared area is about 9 inches, the size of a serving platter. Know that not all tables need shared space for a serving dishes – it's totally acceptable to use a sideboard for that.
This means that your dining table needs to be a minimum of 28-30 inches wide for place settings and no shared space. Dining table width for place settings and serving pieces is a minimum of 36 inches (though it might be a little cozy). The minimum width of a table for reaching across to pass a dish is 48 inches.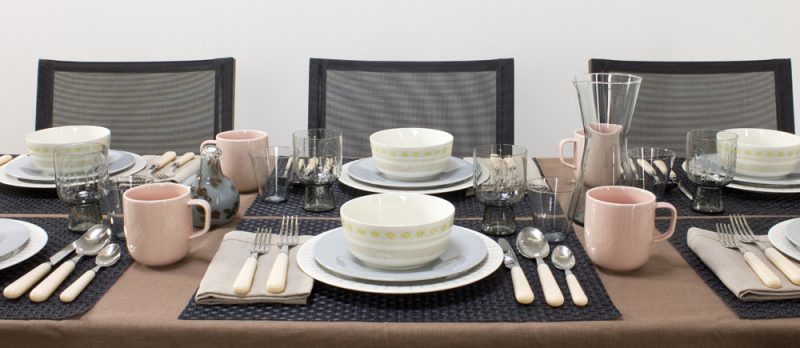 Dining table height is 28 to 30 inches. This measurement is pretty standard across the industry since it's a matter of function. Knees have to fit under the table, so there needs to be enough clearance for people to dine comfortably.
Counter height tables are 36 inches are are usually used in informal settings.
| | |
| --- | --- |
| Seating Width | 24-30 inches |
| Setting Depth | 15-18 inches |
| Dining Table Minimum Width | 28-30 inches |
| Dining Table Height | 28-30 inches |
| Counter Height Dining Table | 36 inches |
Dining Room Size Dimensions vs Dining Table
When you choose your table, it's vital that you leave enough room in the dining area for people to actually get to the table. It is recommended that you leave a minimum of 36 inches between the dining table and the wall or a sideboard. Though 42-48 inches is ideal for a more spacious feeling and room to pull out chairs comfortably. An entrance needs 48 inches so that people can pass by each other to walk to their setting at the table.
Rectangular Dining Table Dimensions
Classic, timeless, and most common, rectangular dining tables often have leaves to provide more space to seat people. If you want the ability to have serving platters in the middle of the table, choose a dining table that is at least 36 inches wide. A rectangular dining table that is 48 inches long will seat four people. A 60 inch long table will seat five or six people and a 78 inch long table is designed to seat eight people.
Rectangular tables are well suited for family get togethers and large families. The great thing about this shape is that you can find a table that can seat from 10-20 people. A table this large does take up a lot of space, so be sure you have a large enough dining area.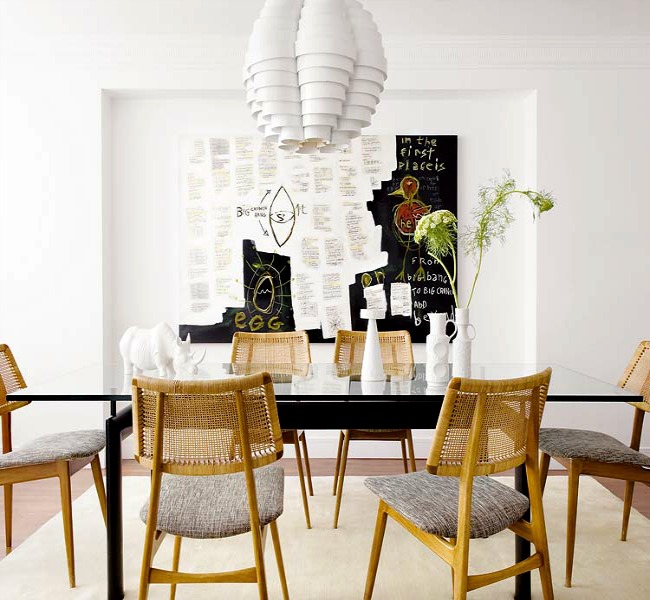 When choosing your rectangular dining table, be sure to look at the base of the table. Sitting on the ends of a trestle base design could be annoying and cramped if it encroaches on the diners legs. A design that has 12-14 inch of overhang on each end will give diners enough space for their knees.
| Number of People | Minimum Dining Table Size |
| --- | --- |
| 2 | 24"x36" |
| 4 | 36"x48" |
| 6-8 | 36"x84" |
| 10 | 42"x96" |
| 12 | 42"x120" |
Circular Dining Table Dimensions
Surprisingly, circular dining tables are often a better use of space than the traditional rectangular tables. Circular tables are great for everyday family use and without corners, it is easier to navigate in tighter spaces.
A 48 inch round dining table seats four people, 54 inches in diameter seats up to six, and a 60 inch round table seats 8-9 people.
If you host often, a round dining table may not be the best option. While it's easier to see everyone, it can be hard to keep up a conversation across the table. Passing dishes across also gets harder the larger in diameter the table gets.
| Number of People | Dining Table Diameter |
| --- | --- |
| 4 | 36" |
| 4-6 | 44" - 54" |
| 6-8 | 54" - 72" |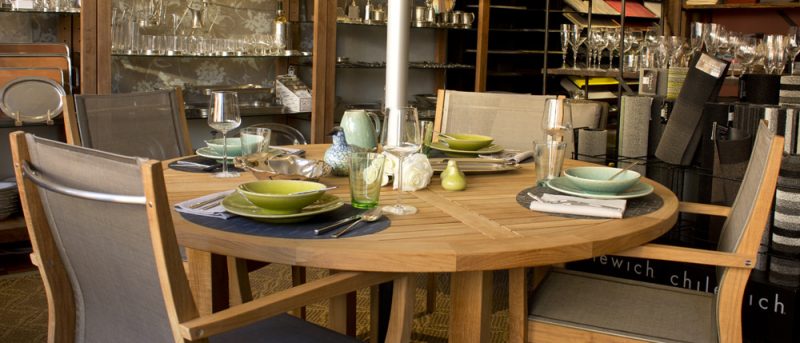 Oval Dining Table Dimensions
Some circular tables turn in to oval shapes as you add leaves. This is a great option for a smaller family space to multi-function for larger events. Oval tables also take up less visual space, but provide almost the same amount of surface area as rectangular tables do without the sharp corners.
Oval table dimensions function the same as rectangular dining tables, but we'll provide a table with measurements
| Number of People | Oval Dining Table Dimensions |
| --- | --- |
| 4 | 36" x 44" |
| 6 | 36" x 54" |
| 8 | 36" x 72" |
| 10 | 36" x 84" |
Square Dining Table Dimensions
Like a circular dining table, square tables are great for small spaces. Beyond seating four people, square tables just can't' seem to cut it. Some square tables have drop leaf design, but that works best for two people since the drop leaf sides might be annoying to sit at. A square table that extends to a rectangular shape is best, since it functions well for small spaces and can seat more people practically when the occasion calls.
A standard four person square table is 36×36 inches.
Table Top Design
The last part to consider in choosing a table is the actual piece you will be dining on – the top. A solid table, opposed to individual planks, is nice because there is no variation (or space for crumbs). Dishes, cups, plates can slide across easily and the eye sees one solid surface. Plank table tops span length wise and give the table a farmhouse feel. Often farm tables will have breadboard ends as well, which is a board that spans width-wise on either ends of the length running planks.
Table top thickness is usually ¾ to 1 inch, though farm tables usually have a chunkier feel and look better with tops up to 1 ¾ inch thick. Also consider the overhang on either side of the table. Four inches is standard, and any longer will overshadow or conceal any detail on the under parts of the table.